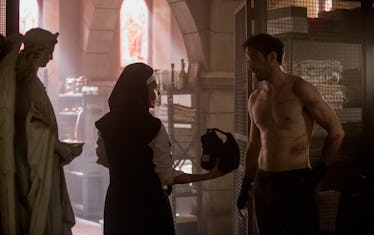 Here's Everything 'Daredevil' Fans Should Know About Sister Maggie
Netflix
With two seasons of Daredevil already in the books, plus one round of The Defenders, which heavily featured most Daredevil alumni, one would think most of the major players in Matt Murdock's life would have been covered by now. But that's not the case. Daredevil Season 3 spends most of the premiere episode located in the orphanage where Matt grew up, as his body repairs and heals from the events of One Midland Circle. There we meet the nun who raised him, Sister Maggie. Is Sister Maggie in the Daredevil comics? Warning: Spoilers for Daredevil Season 3 follow.
No really, this is a big one.
The early episodes of Daredevil show Sister Maggie as the sort of stern mother figure to all the boys in the orphanage. The ones who live there now are just as terrified of getting on her bad side as Matt was as a child. But Maggie also has a soft spot of the young blind boy who went on to become Daredevil, and who still needs her help after all these years.
She also seems to be really into watching him as a boxer and seeing him fight. Just like his father before him. So Maggie likes boxers, huh?
This could be a clue the show has not changed Sister Maggie's character from the comics.
Except, in the comics, she's Maggie Murdock.
Sister Maggie is Matt's mother, first introduced in 1986 in Daredevil #229. She's Jack's ex-wife, having left him before his death. After giving birth to Matt, she suffered a complete breakdown due to post-natal depression. The mental illness caused her to attack her husband and child before coming to her senses. In a panic, she left her family and, not knowing where to turn, wound up joining a convent. Even though she eventually recovered, she remained religiously converted and never returned to her family.
The show could change Maggie's identity, Lord knows Netflix changes enough details from comics to screen over all five of their Marvel shows. But as in the comic, Matt only comes to Maggie in his lowest hour of need, when Fisk (known in the comics as Kingpin) is engineering to ruin Murdock's life, not unlike what's happening this season.
More importantly, Matt never actually finds out Maggie is his mother on the page. He recognizes they have an emotional connection, and he asks her why hinting he's guessed she might be his mother. She denies there is a connection, he can sense she's lying but not why, or over exactly what.
The show has been hinting towards this for two seasons now, with Jack making a call to Maggie to look after Matt just before his death. Stick also asked about Matt's mother, to which a nun tells him "That's another story."
Will the full story of Maggie in the comics come out by the end of Daredevil Season 3? One might think Matt deserves to know the truth after all this time. But perhaps it's best to let sleeping secrets lie.