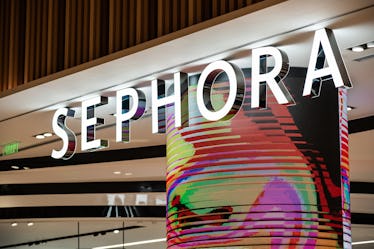 Here's Exactly What To Expect When Shopping At Sephora During The Pandemic
SOPA Images/LightRocket/Getty Images
As we all continue to practice social distancing during the ongoing coronavirus pandemic, practicing caution while choosing to shop IRL is still a must. Since the COVID-19 pandemic began, several brands and big-box retailers have completely adjusted when, how, and if they're operating because of the virus — and Sephora is one of them. If you're wondering if Sephora is closed due to the coronavirus, the brand has released continued guidance on this matter.
As of Tuesday, April 13, all Sephora stores previously closed as a result of COVID-19 are now open, although the brand continues to monitor situations closely, and can still choose to close locations as needed due to COVID, a spokesperson for Sephora tells Elite Daily. There are, of course, still some more permanent adjustments to the in-store experience. "Based on the latest local health guidance and ordinances in the communities where our stores are located, we have made the decision to resume select paid services in certain locations, while maintaining the same strict disinfecting and sanitizing protocols we have conducted since the beginning of the pandemic," says the spokesperson. "Select stores may offer Paid Brow and Feature Focus: Eye Makeup services to clients wearing a mask that covers their nose and mouth for the duration of the service and their time in store." Generally speaking, masks are required while shopping in store.
As of March 15, 2021, Sephora has implemented adjusted policies with regard to tester products. "Clients will be permitted to use testers with disposable applicators, only with the supervision of a Beauty Advisor, after the Beauty Advisor sanitizes the tester and the client disinfects their hands," says the spokesperson, continuing that customers may only swatch products on the back of hands or on wrists, rather than directly to their eyes or mouth. "If a client wishes to apply a tester to their cheek while keeping a mask on, they will need assistance from a Beauty Advisor, who will sanitize the product before and after use, and will dispense the product into a sanitary dish for testing. In select stores, Beauty Advisors may also provide single use samples to clients from testers that have a pump."
Sephora also continues to follow the most up-to-date CDC guidance with regard to mask-wearing, social distancing, hand washing, and stringent store sanitization. Despite most stores being open, it's still best to contact your local Sephora to confirm opening hours, as these times may vary depending on any state and local health and safety guidelines.
In March 2020, Sephora released a serious update regarding its response to the global coronavirus pandemic in the U.S. Late on Monday, March 16, 2020, Sephora confirmed on its website it would temporarily close all its locations. "Today we have made the difficult decision to close all of our retail stores in the US and Canada and implement remote working for employees in our corporate offices from 5pm local time tomorrow (Tuesday, March 17) through Friday, April 3," the brand wrote in a statement.
Sephora also provided an update on how the closings will affect its store employees. "We will continue to care for our employees and their families. Any changes to our corporate or store operations will not affect our commitment to them," read the statement. "To that end, all store employees will continue to receive their base pay for scheduled shifts for the duration of this closure. In addition, health and wellness benefits for employees who are currently enrolled will continue. And all distribution center employees will receive the same considerations should we experience any unplanned disruptions in one of our centers."
Earlier on Wednesday, March 11, 2020, on the community section of its website, Sephora laid out the initial steps it was taking to address COVID-19. At that time, the brand said several Sephora stores would remain open, but some store hours or openings may be affected, given local government guidelines and curfews. "Due to COVID-19, some of our store hours are impacted and some stores are now closed," the brand wrote on its website. "Please reach out to your local store directly for the most up-to-date info."
Before making the decision to close, the brand said it would take additional steps, in accordance with guidelines from the Centers for Disease Control and Prevention, the World Health Organization, and more, to ensure stringent hygiene standards were upheld. This meant regularly cleaning "all high-touch areas, including workstations, product displays, and hygiene stations, with a hospital-grade disinfecting cleaner." This also included the disinfecting and regular replacing of display product testers several times throughout the day. "It is, however, advised not to directly apply makeup that may have been used by others, but rather test it on your arm and use a disposable applicator," the brand wrote. "If you are still unsure, please ask a Beauty Advisor for assistance on how best to test or sample a product."
In that earlier update, Sephora also said it would increase the availability of hand sanitizer for all patrons and employees with multiple access points in and outside stores, and it's upping the amount of weekly deep cleanings for all stores and distribution centers.
Most notably, the brand ceased all in-store beauty services, including makeup and skincare applications, and classes. "We invite you to engage with our well-trained employees who are happy to teach and coach on how to use and apply product through face charts and tools like our Digital Makeover Guide and Virtual Artist," the brand said. "We will inform any clients with current online bookings of this change, and we look forward to welcoming back our clients in the future."
To prioritize its employees' health and safety, the brand offers paid sick time off for full-time and hourly employees, and it will still pay any employee who under quarantine — self-imposed or otherwise. Sephora is also committed to adjusting its approach to the coronavirus as necessary, developing two command centers "with representatives from critical business units to guide our organization swiftly in response to this evolving issue and ensure the care of our community."
As a whole, the brand appears to be on the up-and-up as well. In February 2021, Sephora announced plans to open more than 260 new locations in 2021, 60 of which would be standalone stores and more than 200 of which would be smaller locations in Kohl's, thanks to a new partnership between the two retailers. Of course, social distancing and staying home as much as possible is still of the essence in 2021 (the pandemic isn't over just because you want it to be over). To sweeten the online shopping deal, Sephora is also offering free shipping with the code FREESHIP on Sephora.com, Sephora.ca, and the Sephora app.
If you think you're showing symptoms of coronavirus, which include fever, shortness of breath, and cough, call your doctor before going to get tested. If you're anxious about the virus' spread in your community, visit the CDC for up-to-date information and resources, or seek out mental health support. You can find all Elite Daily's coverage of coronavirus here.
This article was originally published on