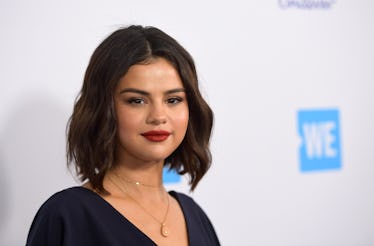 Fans On Twitter Are Making The Same Joke About Selena Gomez At The BBMAS
Matt Winkelmeyer/Getty Images Entertainment/Getty Images
If you thought you'd seen the last of Selena Gomez following the May 7 Met Gala in New York City, you clearly thought wrong. On the heels of the release of the second season of 13 Reasons Why (a show for which she is the executive producer) and following her new single, "Back To You," Gomez has been all over the industry circuit. Her ability to be everywhere (without really being anywhere) has fans wondering is Selena Gomez at the Selena 2018 Billboard Music Awards? Fans desperately wanted her to make an appearance.
While Gomez hasn't been very vocal about this year's award show (and she's been entirely mum on whether or not she'll be there), she is nominated for an award. Nominated in the Top Dance/Electronic Song category at the 2018 Billboard Music Awards for her collaboration with Kygo for the song "It Ain't Me," Gomez will go head-to-head for the top honors against The Chainsmokers and Coldplay (for "Something Just Like This"), Cheat Codes and Demi Lovato (for "No Promises"), Clean Bandit and Sean Paul and Ann-Marie (for "Rockabye"), and the crowd-favorite Zedd and Alessia Cara for their dynamite collaboration on the song "Stay." It's the only nomination for Gomez, though her BFF Taylor Swift is nominated in eight different categories. And her on-again, off-again ex (is he even her ex at this point?), Justin Bieber, is nominated for the Top Hot 100 Song for his collab on "Despacito."
Here's the video for "It Ain't Me," in case you need to refresh before the show gets underway:
Fans got a little impatient waiting for Gomez to grace the 2018 BBMAs red carpet, so they decided to pretend.
Take a look:
Gomez is rocking all over the place. Over Saturday, May 19, Gomez took the stage with BFF Taylor Swift as part of the singer's Reputation tour. T Swift welcomed her besties on stage at the Rose Bowl for a performance of "Hands to Myself." After the performance, Gomez decided to share some sweet words about Swift to the audience. She thanked the "Delicate" singer for being an amazing friend for the past twelve years, and for making her a stronger person. She said,
I want to say thank you to my best friend of about 12 years, almost 13. And the reason why she has been one of my best friends is because this person has never, ever judged a single decision I've made. She's always met me where I've been. She's encouraged me when I've had nothing to be encouraged about. And I don't know if I would be as strong as I am if I didn't have you and your family because you changed my life.
The "Good for You" singer then thanked the audience for coming out to see Swift and supporting her. She said,
But honestly thank you from the bottom of my heart for supporting someone that I know that is the most beautiful, strong, independent woman I've ever met. So thank you for supporting my best friend.
It's always nice to see women supporting women, especially when it's on stage for everyone to see.
The feeling is mutual too. After the performance, Swift had some really sweet words for Gomez too. She shared a photo to her Instagram from that night's performance and wrote,
To the person I could call at any time of day, who has been there no matter what... you absolutely KILLED IT tonight and everyone was so excited to see you. I love you, and 60,000 people at the Rose Bowl loved you too.
It was a very busy weekend for Gomez, though fans were eagerly awaiting her appearance they understand she couldn't make it to the BBMAs. It's totally cool, with all the fans filling in the deets, it's like she was there.