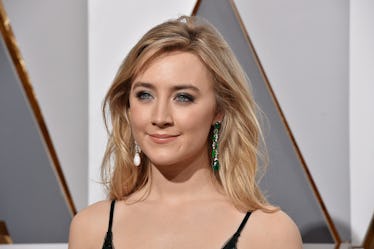 Saoirse Ronan Was Linked To This Famous Musician & We Hope They're Really Dating
Kevork Djansezian/Getty Images Entertainment/Getty Images
Heading into awards season, the name on everyone's lips is Saoirse Ronan. The Irish actress has already received two Oscar nominations in the past for her roles in Atonement and Brooklyn, and this may finally be her big year thanks to her standout performance in Greta Gerwig's tremendous ode to teenagedom, Lady Bird. But despite becoming an awards season mainstay, there's still a lot that fans don't know about her. Like, is Saoirse Ronan single, and what does her eye-catching name mean? She was actually linked to a pretty famous musician recently. Let's get into all things Saoirse Ronan.
Saoirse Ronan tends to keep her personal life private, but she has been stirring up dating rumors recently with her fellow famous Irishman, Hozier. You probably know him best from his soulful single that was absolutely everywhere in 2014, "Take Me to Church." Anyway, Ronan's connection to Hozier began last year, when she starred in the music video for his song "Cherry Wine." Relationship rumors began to spark up when the pair kept being spotted together throughout the past year, going to music festivals and movie premieres together. Ronan and Hozier are at the very least good friends, but it is unclear whether or not they are actually dating each other or not at this point since neither has talked about the relationship. But we are obviously going to be seeing a lot more of Ronan in the coming few months as the Golden Globes and Oscars are approaching, so we will have to keep our eyes peeled to see if she walks the red carpets with Hozier.
Before her possible relationship with Hozier, Saoirse Ronan has had two famous boyfriends. She dated her How I Live Now costar George MacKay back in 2013. Although MacKay has not spoken about the relationship, the director of How I Live Now Kevin McDonald told the Irish Independent that Ronan and MacKay's portrayal of on-screen lovers in the movie was a case of art imitating life:
It was Saoirse's first proper boyfriend and, in a way, I think she was living through the same thing that the character is going through. I suspected what was going on but they kept it very quiet.
After a brief relationship with George MacKay, Saoirse Ronan started dating another one of her co-stars: Max Irons. While Ronan and Irons were working on their 2013 sci-fi thriller The Host together, they began a short relationship. Irons is the son of film and theater legend Jeremy Irons.
Since those two flings, Saoirse Ronan's dating life has been pretty quiet, at least in what she has revealed to the public. It is also since then that her film career has reached the height of its critical attention, having followed up a powerhouse, highly praised performance in 2015's Brooklyn with a totally different but equally beloved lead role in this year's breakout dramedy Lady Bird. It was that role that also led to Ronan hosting Saturday Night Live for the first time, and being at the center of one of the best sketches of the season: the incredibly timely "Welcome To Hell" music video.
Romances aside, the other question most Americans have when they see Saoirse Ronan's name is how to pronounce it. Ronan has explained the pronunciation in every single interview she has done, but in case you missed them, Saoirse is pronounced like "Sir-shuh." The name means "freedom" in traditional Irish.
It is probably best to learn Saoirse Ronan's name now, since she is on a roll when it comes to showing off her talents in critically beloved movies. Look out for her at the Golden Globes and Oscars in the next few months.