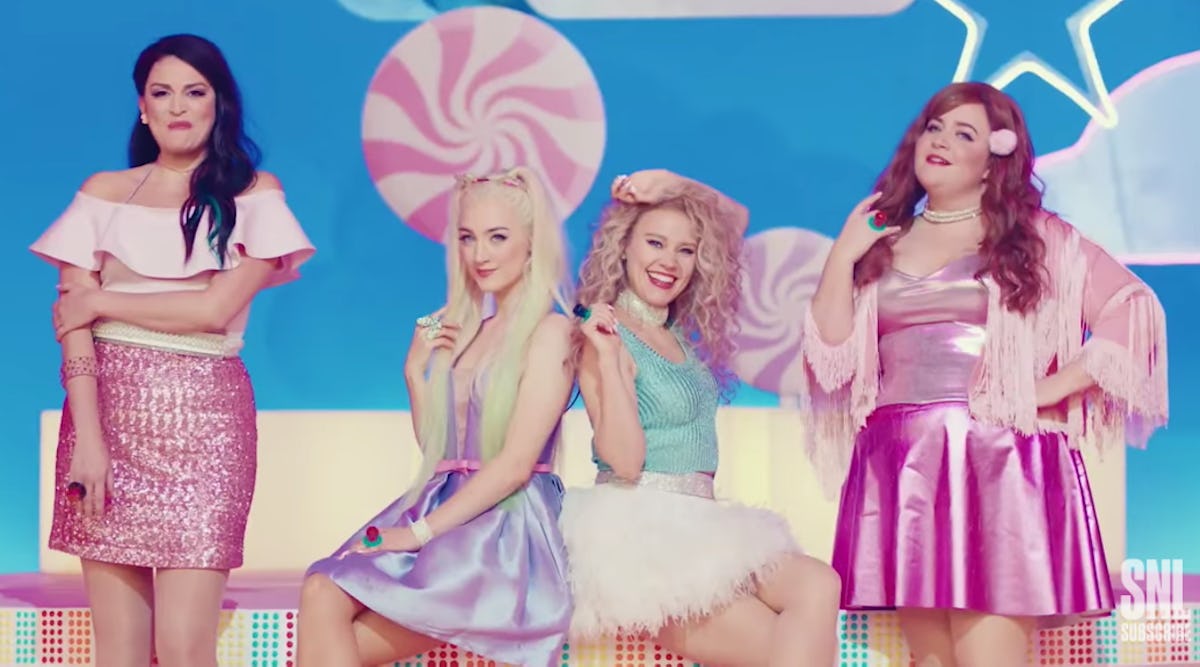 'SNL' Addresses Issue Of Sexual Harassment With "Welcome To Hell" Skit
There's no easy way to approach the topic of sexual harassment, especially when working on comedy sketches. On Dec. 2, SNL had no choice but to address the issue, given the fact that the face of its network, Matt Lauer, was just ousted on sexual misconduct allegations. The "Welcome to Hell" SNL skit took the topic in an unusual but eye-opening direction.
The digital short was a combination of Lisa Frank and Candy Land, but the subject at hand was anything but playful. Host Saoirse Ronan, along with Cecily Strong, Kate McKinnon, Aidy Bryant, Leslie Jones, and Melissa Villaseñor tackled what women face on a regular basis. They made it very clear that this inappropriate behavior is nothing new — far from it, actually.
So what exactly do the women discuss? Putting car keys between fingers when walking alone, the "staying together" approach when traveling, carrying mase, and being on guard during an Uber trip, to name a few. The women — who explained that "this ain't a girl group; we just travel in a group for safety" — also listed a bunch of things ruined for females, including "parking, and walking, and Uber, and ponytails, and bathrobes, and night time, and drinking, and hotels, and vans."
Yes, the ladies might've joked that they were upset that House of Cards is ruined (alluding to the allegations against Kevin Spacey) and took jabs at the lengthy list men who have been accused in recent months, suggesting it's been like a game of "Guess Who". But there was certainly a serious aspect at hand in between the lollipops and pastel. "I guess it begs the question, 'Woah. Why didn't you say something baby girl?'" McKinnon said. "Well dang Double Daddy, we definitely did... for hundreds of years," Ronan replied. It might've been colorful, but the sketch was definitely referring to hell.
This wasn't the only time SNL decided to add this infamous topic into its sketches on Dec. 2.
"Weekend Update" also found time for a quick jab in between comments about the Republican tax bill and Michael Flynn's guilty plea. Host Colin Jost said,
A new survey finds that four out of five Americans believe sexual harassment is happening in the workplace. While one out of five couldn't respond because their boss' penis was blocking the keyboard. I almost forgot about this week's batch of predators. It's just a whole segment of the news now. I've just got to announce the names every week like Powerball numbers.
The late-night show has recently come under fire for the way in which it has handled the topic of sexual misconduct. Initially, SNL decided to address the allegations against Harvey Weinstein when they first broke. However, the show then decided to drop that plan, which seemed rather odd and problematic to many viewers.
But the comedians were dammed if they do and dammed if they don't. A New York Film Festival sketch addressing Weinstein met mixed reviews and Alec Baldwin's portrayal of President Donald Trump addressing Weinstein came after the comedian himself landed in the news for making inappropriate comments about the issue, according to The New York Times.
There is certainly no shortage of material for the Saturday night show to work with as of late — be it politics or office politics — but the debate of how to handle such serious topics still lingers. Many wonder if there is room for levity while all of this is taking place, while others sit back and enjoy the laughs.
Regardless of how you feel about the show's approach, one thing is unanimous: There are plenty of bizarre happenings going on that need to be addressed and rectified.