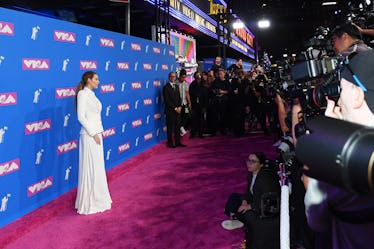 Blake Lively Walked The VMAs Red Carpet With A Date, But It Wasn't Ryan Reynolds
Nicholas Hunt/Getty Images Entertainment/Getty Images
Red carpet attendees for mid-range events like the VMAs is always a bit of a smorgasbord of talent. There are, of course, the trending pop stars of the moment. There are those who are nominated. There are those whose agents pushed for them to get an invite. Then there are those invited to be "presenters" to have a reason to ask them to appear on the red carpet. Blake Lively falls into that last category. But is Ryan Reynolds at the 2018 VMAs? Lively doesn't necessarily have to bring her husband, and it looks like tonight she left him home.
If you told me back in 2011 that Blake Lively and Ryan Reynolds would be a marriage made to last, I wouldn't have believed you. Reynolds had divorced Scarlett Johansson just the year before, and Lively had bounced around after breaking up with Penn Badgley. But both of them put their noses to the grindstone when it comes to keeping their personal lives private, and neither takes themselves too seriously, so it seems like they're a pretty perfect match.
Something like the VMAs red carpet might seem a little beneath the star of Deadpool, but Reynolds certainly doesn't seem to think so, and he doesn't mind pairing up with his wife to be one of the best-looking couples on the red carpet, simply by default. But tonight Blake came with Paul Feig, the director of such films as Bridesmaids and the Ghostbusters reboot.
Lively has been really into pantsuits the last few weeks, doing several appearances over the weekend, so fans were assuming she might go for pants again tonight. That being said, I'm not sure anyone knew what to expect for her exact look tonight. The sparkling jacket and white buttoned down blouse are directly on trend for her style right now though, and stand out as refined in a sea of louder and more MTV style looks around her.
Ryan Reynolds' no show with his wife is a bit of a let down. Tomorrow is the release of Deadpool 2 on DVD, and this would have been an excellent moment to remind fans last minute of it's impending arrival. Still, someone has to stay home with the kids.
Blake Lively isn't the only one who is part of the presenting crowd this evening. She's joined by the Backstreet Boys (all five of them) as well as Tiffany Haddish, who just hosted MTV's other huge event: the Movie and TV Awards back in June. Comedians Kevin Hart and Keegan-Michael Key will be joining them on the carpet and on stage, along with actress Olivia Munn, Stranger Things' Millie Bobby Brown, and Shay Mitchell.
Rita Ora, who has two nominations tonight will also be presenting, as will Liam Payne, who is nominated for his collaboration with Zedd. Other celebs who weren't nominated but are making an appearance tonight include singers Amandla Stenberg, Bebe Rexha, and Teyana Taylor, as well as rappers DJ Khaled, G-Eazy, Gucci Mane, KYLE, and Lil Uzi Vert. Common and Lenny Kravitz will also give away awards, so no matter who takes home the shiny trophy, it's sure to be a good night.