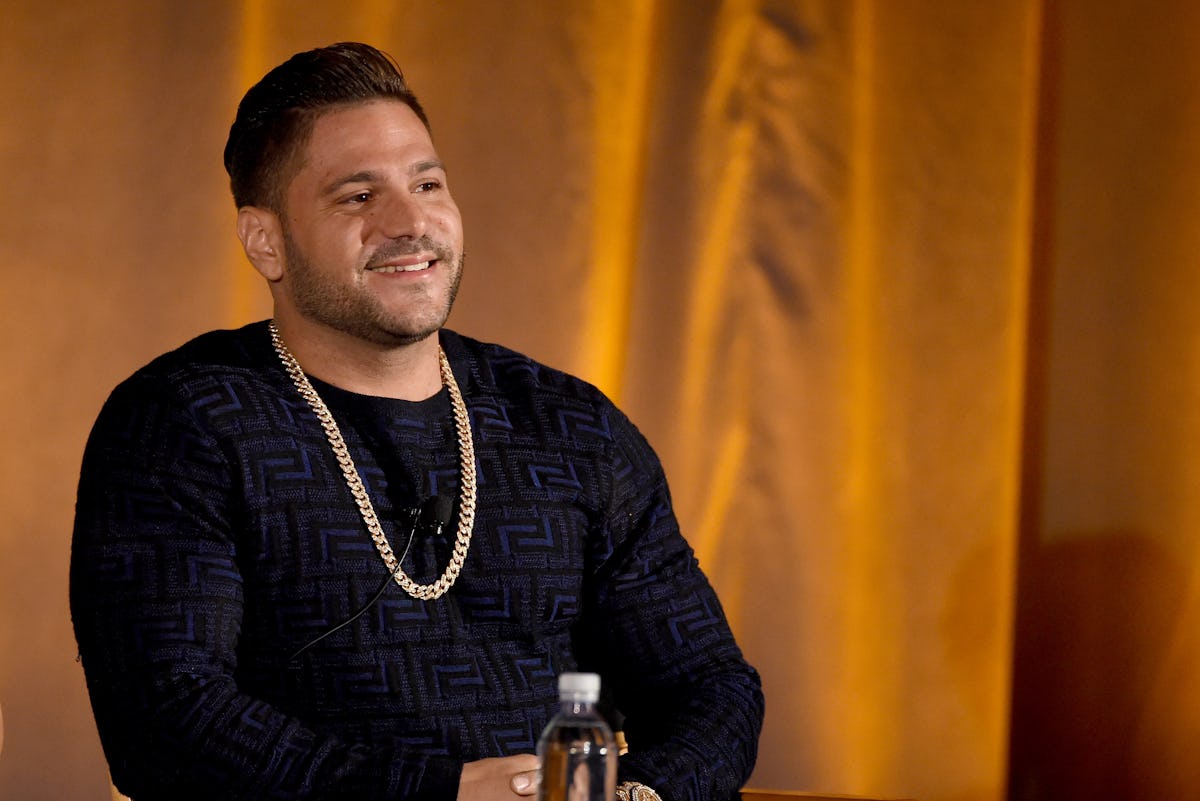 'Jersey Shore Family Vacation' Is Coming & Here's What You Need To Know About Ronnie
Kevin Winter/Getty Images Entertainment/Getty Images
If you're anything like me, then there is no such thing as too much Jersey Shore. As a millennial, the show is engrained in my culture, and I think we can all agree that there has yet to be a show that even comes close to the drama and excitement of Jersey Shore since it went off the air in 2012. That being said, I have some fist-pump worthy news for you. That's right, get your self-tanner ready, because it looks like our favorite guidos and guidettes are gearing up for a Jersey Shore reboot and I, for one, couldn't be more excited about it. However, it definitely raises some questions, like if Ronnie Magro is single or not post-Sammi drama.
Some background info first: MTV ~officially~ announced its Jersey Shore revival series during the premiere of Floribama Shore on Monday evening and they quickly followed the announcement up on Twitter. "Get ready...," they tweeted, "The cast of #JerseyShore is headed out on a family vacation coming to MTV in 2018! @JerseyShoreMTV." Though there aren't many other details available about the show just yet, we do know most of the original cast members including Snooki, JWoww, The Situation, DJ Pauly D, Vinny, Ronnie, and Deena will be a part of it and it will be called Jersey Shore Family Vacation because, well, what else would it be called?
Sadly, it looks like one OG (original guidette) cast member — Sammi Sweetheart — won't be partaking in next year's reunion. Though there is no ~official~ announcement as to why Sammi is sitting this one out, some think it has something to do with her ex, Ronnie, being a part of the show.
According to an Us Weekly source, "Everyone was invited to come on the show, but Sammi was the only one who didn't want to. A big reason for that was because she didn't want to be around Ronnie."
Sammi's friend and fellow cast mate Deena Cortese says that's not true, though. The recently married star told Us, "Sam is the happiest I've ever seen her, so I think she would be just fine if Ronnie is there. She's doing great. I don't think his presence would bother her at all."
To be honest, Deena is probably right. Both Sammi and Ronnie are in new relationships and, according to social media and interviews, they both seem very happy with their significant others.
Sammi has been dating fellow New Jersey native Christian Biscardi since April, and, though they're a pretty low key couple that stays out of the media, they love posting pics together on Instagram. Sammi even captioned one picture, "Thank you for showing me what true love really is. I love you!"
Meanwhile, Ronnie recently opened up to Us Weekly about his own relationship, saying, "Yes — we are serious. She is the first person I finally really fell in love with. I want to settle down and have a family; she is that person for me."
OMG. It looks like our little Ronnie is all grown up! He even mentioned that he and his girlfriend talk about marriage. "We think about it," the Jersey Shore star said, "One day I am in Vegas and the next day I am on The Shore again. So yes, we think about it, but right now things are good."
Hopefully we'll get to hear more about (or even meet??) Ronnie's girlfriend once Jersey Shore Family Vacation airs next year.
The reunion series comes after this past summer's one-off reunion special on E!, Reunion Road Trip: Return to the Jersey Shore, gave Jersey Shore diehards a glimpse into the grown up lives of Snooki, JWoww, The Situation, Pauly D, and Sammi.
It will certainly be interesting to see how Ronnie meshes with his old crew once they're all back together; he didn't take part in the Reunion Road Trip this summer, and Deena Cortese told Us Weekly prior to the reunion airing that nobody really talks to Ronnie.
On top of that, Ronnie was noticeably absent from Deena's wedding last month, despite the rest of his former house mates being present.
I guess we'll just have to wait and see what happens when the crew hits our TVs next year, right? In the meantime, enjoy this adorable video of Snooki hyping us all up.
Check out the entire Gen Why series and other videos on Facebook and the Bustle app across Apple TV, Roku, and Amazon Fire TV.