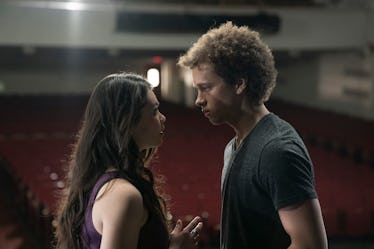 NBC's New Show 'Rise' Is Based On A True Story & It's So Inspiring
If you've missed the gritty realism of Friday Night Lights and the musical moments of Glee, the two's best ingredients have combined in the new NBC series Rise. Debuting last Tuesday after Season 2 of This Is Us wrapped, Rise won over diehard musical theater kids with its characters' quest to produce the controversial show Spring Awakening as the high school musical. Anyone who has seen one too many amateur productions of The Music Man or Grease is definitely drawn to the series for the choice of musical alone. While every Hollywood project embraces creative liberties, is Rise based on a true story?
Known for his work on other NBC shows Parenthood and Friday Night Lights, Rise creator Jason Katims has loosely based his latest series on the 2013 book Drama High. Written by Michael Sokolove, the book details the true story of Pennsylvania high school teacher Lou Volpe rescuing Harry S. Truman High School's drama program to the point of it receiving national attention.
After the program was struggling financially, Volpe directed succesful productions of Rent, Spring Awakening, and Les Misérables that would ultimately determine whether other high schools would have the rights to perform the groundbreaking shows. Volpe choosing works with themes of social issues, addiction, and sexuality helped expand the mindset of both the students and others in their working-class neighborhood of Levittown, Pennsylvania.
In addition to recreating the school's choice of musical and its location, Rise also has an alternative version of Tracey Krause Gatte, Volpe's former student and assistant director who eventually took over the school's drama program when Volpe retired in 2013. Although Rosie Perez's character Tracey Wolfe is a fellow teacher on Rise, she becomes a devoted sidekick to Josh Radnor's Lou Mazzuchelli, which Volpe has been renamed.
While Lou is seen asking to direct the school musical out of the blue on Rise, Volpe actually sat in on a rehearsal of Camelot before asking the director if he could help in the production. That director retired by the end of the year, encouraging Volpe to apply to be the assistant drama director, but he was given the main director position instead.
Incorporating fictional students from different watts of life, the pilot of Rise received mixed reviews, with TV and theater fans alike picking apart iffy details of the plot. Admittedly, the episode did lose me a little when the kids and Tracey casually burned their costumes in a bonfire in the school parking lot.
Those familiar with Sokolove's book also called out the series for making Radnor's character straight, as Volpe was actually a closeted married man before coming out as gay later in life.
Explaining the decision to make the character Lou straight, Katims told The Hollywood Reporter:
I hope and believe that we carry a lot of [Lou's] spirit into the show. We took that as inspiration. I felt like I needed to make it my own story. I didn't want to shy away from sexual orientation and gender. Those stories resonated with me as a storyteller and I wanted to lean into that. With Lou's family, there's a lot of reimagination — not just if he's gay or straight, but the family structure... It was important to honor the source material, but to also make it my own so we'd be able to lean into it.
While Volpe reportedly once assumed that the fictional version of himself would be gay, he now serves as a consultant on the show and supports Katims' decision to change that detail:
For me, 'straight-washing' the character was never an issue, because he is not based on me. As an artist, I respect their vision for the show.
Despite some of its initial bumps in the road, Rise has still received praise for including a transgender character and another who has been hinted to struggle with his sexuality in later episodes. Plus, who can't help but well up when earnest teenagers (particularly if they're actually good performers) sing a musical number? In the summer absence of This Is Us, Rise could be the heartwarming, inspirational substitute for those of us who need a positive boost every now and then.
Rise returns on Tuesday, March 20, at 9 p.m. ET on NBC.