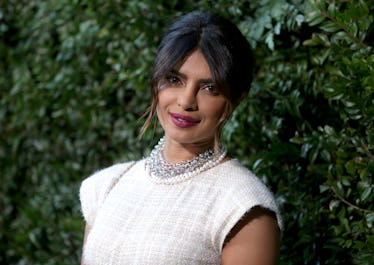 Priyanka Chopra Wasn't At The MTV Movie & TV Awards, So Nick Jonas Was Solo For The Night
Rich Fury/Getty Images Entertainment/Getty Images
Is your head on as much of a swivel as mine trying to see all of our fave celebs at the MTV Movie & TV Awards? NVM, don't answer that — of course it is. But the biggest question on my mind right now is: is Priyanka Chopra at the 2018 Movie & TV Awards? Well, it looks like Nick Jonas flew solo tonight. Hey, absence makes the heart grow fonder, and all that.
Although he hit the award show alone, he looked striking, opting for an all-black ensemble of a leather jacket, a printed shirt, slacks, and boots. But I've gotta admit: it's a little surprising, considering the way the two have been showing up together all over the place since the dating rumors started. Chopra has been on the go with her reported beau Nick Jonas — and things have definitely seemed to be getting serious between the two of them. Elite Daily reached out to Jonas and Chopra's teams for comment on the dating rumors, but did not hear back by the time of publication.
Although it would have been ideal if Chopra was at the awards show to walk with Jonas down the red carpet, he still looked amazing flying solo in his leather jacket. I mean, look at his smize!
Anyway, even though Chopra didn't attend the MTV Movie & TV Awards with Jonas, that doesn't mean their rumored relationship isn't off. On June 9, Jonas even took his maybe-gal to his cousin Rachel Tamburelli's wedding in New Jersey, and a source told People that it's a sign they're taking the next step in their relationship.
"It's a huge deal that Nick brought Priyanka to his cousin's wedding," the insider explained to the outlet. "He's dated a lot over the last couple years but it's never been anything serious, so this is a big step."
According to a report from TMZ, the two even kind of color-coordinated at the wedding. (And if that's not an indication of taking things to the next level, IDK what is.) The outlet said Chopra wore a gold dress, while Jonas opted for a dark suit and white sneakers, pulling off a perfect, chic look. If you wanna see the photos, The Daily Mail published a couple — just try not to obsess too hard, OK?
But it's not the first time the two have reportedly stepped out and amazed their fans. In fact, on May 26, they attended a Los Angeles Dodgers game together, and an eyewitness shared all the uber-cute details with Us Weekly. The source said:
Priyanka and Nick were talking really closely and were very smiley and very happy. They weren't trying to be private as they were in a pretty public place, but they were talking to people around them, sitting closely and they both just seemed super happy.
The previous day, May 25, Chopra and Jonas had also attended the Beauty and the Beast Live concert at the Hollywood Bowl, and — although they reportedly kept the PDA to a minimum — an eyewitness told Us Weekly they still looked "great." The source revealed:
They walked in together just before the performance was starting, they looked great together, but no hand-holding or obvious PDA … The two were seen heading to the concessions stand during intermission before returning to their seats to finish taking in the show. They snuck out right as the show was ending.
Although the two stars have been pretty tight-lipped when it comes to their newly reported budding romance, they might've been dating for a while. Chopra and Jonas attended the Met Gala in May 2017, which is really all the confirmation I need with it being such a major event, TBH. However, when Chopra visited Jimmy Kimmel Live the same month, she kinda squashed all the speculation about a relationship with Jonas. She said:
Yeah, we were at the same table. I mean, we know each other. So, he was like 'Hey, you wanna go together?' And I was like, 'Yeah, OK, let's go together.' So, it just ended up working out.
Well, official or not, I'm gonna need this adorable couple to be at every award show and any other major event, so I can get my required fix of them. Who's with me?