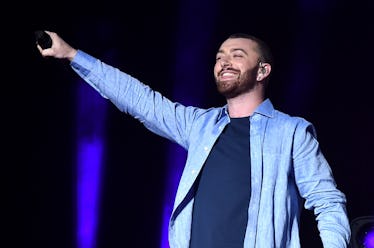 Sam Smith Dropped A New Song & Fans Are Wondering If It's About Brandon Flynn
Kevin Winter/Getty Images Entertainment/Getty Images
Sam Smith's new song, "Pray" is beyond emotional and fans are already speculating who he may have written the song about. Is "Pray" about Brandon Flynn? Since Smith's song lyrics are mainly about personal relationships, some fans believed it could be all about his new boyfriend.
Sam Smith sings,
I'm young and I'm foolish, I've made bad decisions
I block out the news, turn my back on religion
Don't have no degree, I'm somewhat naive
I've made it this far on my own
But lately, that sh*t ain't been getting me higher
I lift up my head and the world is on fire
There's dread in my heart and fear in my bones
And I just don't know what to say
Maybe I'll pray, pray
Maybe I'll pray
I've never believed, and you know, but I'm gonna pray
You won't find me in church (No) reading the bible (No)
I am still here and I'm still your disciple
I'm down on my knees, I'm begging you please
I'm broken, alone, and afraid
I'm not a saint, I'm more of a sinner
I don't wanna lose, but I fear for the winners
When I try to explain, the words run away
That's why I am stood here today
And I'm gonna pray, pray
Maybe I'll pray, pray for a glimmer of hope
Maybe I'll pray, pray
Maybe I'll pray
I've never believed, and you know that I'm gonna
Won't you call me?
Can we have a one-to-one, please?
Let's talk about freedom
Everyone prays in the end
As far as these lyrics go, it seems like the song is more personal, and if anything, Smith might be talking to a higher power. It seems to explore his thoughts on religion, not exactly another person.
Smith and 13 Reasons Why's Flynn just recently went public with their relationship, as they were seen together holding hands and kissing in New York City. The couple even had a great theatre date night, catching a performance of Dear Evan Hansen.
Smith tweeted after the show: ""Just went to see 'Dear Evan Hansen' — out of this universe. I properly snot cried throughout!! @BenSPLATT was sensational xx GO SEE IT."
By all appearances, Smith and Flynn look like a happy couple and I can only imagine we'll be seeing more of them together. Fans are fully onboard, with tweets such as: "SAM SMITH AND BRANDON FLYNN TOGETHER IS A BIG YES FROM MEEEEEEE" and "Sam Smith and Brandon Flynn are the real life ship that we deserved, im so happy."
As recently as last month, however, Smith told Beats 1 host Zane Lowe in an interview that he was "even more single than I was when I released In the Lonely Hour," adding, "So, I'm insanely single."
Smith also shared some of his perspective on relationships during the interview, noting: "What I've been through relationship-wise the last year has made me a lot stronger and I feel like I've learned some lessons from it."
It appears his relationship with Flynn may be pretty new, and unlikely that this song's lyrics are about the actor.
However, Smith explained in an interview with SiriusXM's 1 on 1 with Larry Flick that the song "Too Good at Goodbyes" was written about a guy he was in a relationship with last year, noting that his new album still gives a look at his personal life:
The whole album is an album that is about many different things, different stories, but I wanted to open up with this because it's about me, and I think that's where I left people. In The Lonely Hour was about me and my relationships, and I just wanted to come back with something that just updated you on my love life, which is still going terribly.
He continued: "This album is — I've managed to write about things and about other people and other people's pain. I'll never write happy songs, but I will always — when I write music, I'm able now to talk about people that are close to me. Family, friends, and just about other things that move me."
In a new interview with Zane Lowe, Smith explained further about being so open: "I'm so honest that everyone knows everything about me now. They know the deepest parts of my life, everything else is pretty boring."
He also spoke about relationships and it sounds like he may be talking about a new romance, noting:
I think me looking after myself now, I'm feeling hopeful about relationships because I actually think I deserve to be treated in a nice way. I figured out eventually that I do have to be happy and I want to be happy and I don't have to be unhappy to make music and I'm feeling really positive.
He added, "For the first time, I feel like I could fall in love and be loved back."
As it should be.
Check out the entire Gen Why series and other videos on Facebook and the Bustle app across Apple TV, Roku, and Amazon FireTV.