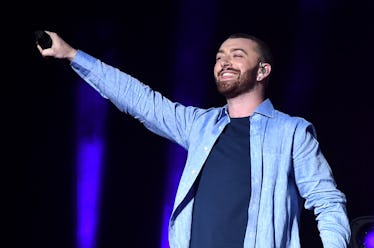 Sam Smith May Be Dropping A New Single "Everyone Prays In The End" & Fans Are Pumped
Kevin Winter/Getty Images Entertainment/Getty Images
Fans have been waiting for more new music from Sam Smith and it looks like we're finally getting something very soon. And it will be amazing, no doubt. Sam Smith teased "Everyone Prays In the End" will be his next single and fans are psyched. Check out what he revealed on Instagram.
Smith captioned his latest Instagram post simply "6.10.2017" with the song's title appearing in a video: "Everyone Prays in the End." Oh yeah, you've got everyone's attention!
Fans can assume this is the follow up to Smith's current hit, "Too Good at Goodbyes." It also coincides with Smith's upcoming appearance as musical guest on SNL this weekend, as he noted on Instagram: "5 more days till Saturday Night Live. Can't believe my first SNL was over three years ago!!"
He's also set to perform at the We Can Survive concert on Oct. 21 at the Hollywood Bowl, along with Alessia Cara, Harry Styles, Kesha, Khalid, Lorde, Macklemore, P!nk, and Sam Hunt.
It sounds like Smith's got a lot going on and fans are here for every bit of it. Responses to the news of a new song had people pretty emotional, with one fan tweeting: "I've only read 2 lyrics from sam smith's next song and i can already tell it's gonna break my heart."
One fan tweeted: "NEW SONG????? OMG," while another had a bit more dramatic reaction. Same, honestly.
Another fan needed to grab the tissue box, tweeting: "Let me grab some tissues and I'll be ready."
Some thought the song's title seemed relevant, with one fan noting: "Seems very appropriate these days. Thank you for answering our prayers."
Others hoped that he will be singing the new song on SNL. He has to, right?
This fan is ready with whatever Smith has in store, tweeting: "New single or album preorder?? Get your coins ready, just take my money Sam."
And yeah, this is definitely a bright spot for many people, with this fan noting: "Thank you my day just got better."
A lucky few are already familiar with the song, with one person commenting, "you sung this at the intimate show?? WOOOOO YES SAM" and another adding, "Seriously was my favorite at the Mercury Lounge! I can't wait!"
Smith has also been making headlines for his oh-so-cute romance with 13 Reasons Why star Brandon Flynn. The two were spotted hanging together in New York, eating lunch in the West Village, and sharing a kiss. The two walked around the city and Smith was photographed with his arm around Flynn, holding hands. Sigh.
As if that's all not goals enough, Smith and Flynn had the perfect date night, catching a show of Dear Evan Hansen, which the singer later tweeted about, writing: "Just went to see 'Dear Evan Hansen' — out of this universe. I properly snot cried throughout!! ‪@BenSPLATT was sensational xx GO SEE IT."
Evan Hansen star Ben Platt was thrilled with the singer's high praise, tweeting back: "Thank you so much for coming. Your music and your voice are wildly inspiring."
Smith noted just last month in a Beats 1 radio interview with Zane Lowe that he was "even more single than I was when I released In The Lonely Hour," adding, "So, I'm insanely single."
He also shared some of the wisdom that comes with dating and breakups, noting, "What I've been through relationship-wise the last year has made me a lot stronger and I feel like I've learned some lessons from it."
While Smith and Flynn haven't yet confirmed their relationship or made it Instagram official, it looks like they're certainly having a good time together. Fans, needless to say, are loving this coupling:
Smith is definitely living his best life. Can't wait for the new song!
Check out the entire Gen Why series and othervideos on Facebook and the Bustle app across Apple TV, Roku, and Amazon FireTV.