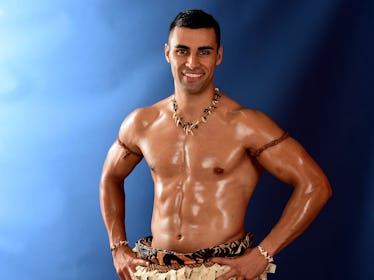 Here's Everything You Need To Know About Tongo's Shirtless Flag Bearer At The Olympics
Harry How/Getty Images Sport/Getty Images
Flash back to the viral moments of the 2016 Summer Olympics and you may remember the shirtless flag bearer with the abs that trended around the world. Taekwondo athlete Pita Taufatofua, Tonga's flag bearer during the Games' Opening Ceremony, got many Olympic viewers thirsty, and now he's back to compete as a cross-country skier in PyeongChang. Although he's definitely keeping his clothes on this time, anyone who saw those abs has to wonder: Is Pita Taufatofua single?
The Australian resident, who competes for Tonga in honor of his father's heritage, was single and ready to mingle during the 2016 Games. Takitoa Taumoepeau, the Secretary General of Tonga's National Olympic Committee, told the Daily Mail at the time:
There are many girls but no wife or girlfriend as far as I know. He is straight and single. The women can keep trying.
While I'm not sure why a guy in such an official position is commenting on an athlete's dating life, it seems that the remark still applies to Taufatotua's current situation. Although the 34-year-old hasn't hinted at any romantic entanglements, he recently posted an Instagram meme that he said related to his quest of qualifying for the Winter Olympics. Given the context of the meme — a guy tries to hug a woman who has her eyes on someone else — it could totally apply to love, too.
Having only seen snow for the first time two years ago, Taufatotua's journey to the Winter Olympics was unexpected, to say the least. He qualified as a cross-country skier shortly before the deadline passed, saying:
The goal was to qualify in a year and I feel I don't have as much pressure as other people now, because I achieved what I set out to achieve and all I have left to do is give the best version of me in the race...I'm always trying to raise the bar, so who knows, maybe I'll go for three Olympic sports. I don't think that's been done before, three completely different sports.
Now only the second Tongan to ever compete in the Winter Olympics, Taufatotua was eliminated in his first taekwondoe match of the 2016 Summer Games. For the PyeongChang Games, he is the sole representative of the country, so we can definitely expect to see him with the national flag once again at the Opening Ceremony.
With that much pressure on him in the PyeongChang games, Taufatotua has been sharing updates of his training process on social media. Often accompanying his skiing videos is a brutally honest message about training, all of which can apply to general life situations beyond the Olympics.
Case in point: this particular video tells followers that the cure for better training results is "more and more uphills." Essentially, make like Dory and Marvin and just keep swimming, guys.
Given this amazing underdog story, I'm demanding that Pita Taufatofua revisit TODAY in PyeongChang, if not for a reenanctment of his 2016 appearance on the show in Rio.
Taufatofua plans to compete in the Men's 15 km freestyle race. According to the Olympics website, top medalists in the event are often from Nordic countries like Norway and Finland, but I'll be rooting for Taufatofua and his sheer determination in this race.
The Olympics' cross-country skiing events are scheduled for the second week of the Games, with the men's events taking place from Sunday, Feb. 11 to Saturday, Feb. 24. Taufatofua's freestyle race will occur on Friday, Feb. 16. The likelihood of him scooping up a medal to wear at Feb. 25's Closing Ceremony may be slim, but I'm sure his fans will love to see him compete regardless.
To learn more, visit teamusa.org. The Winter Olympics will air live starting Feb. 8.