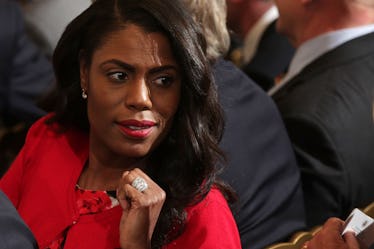 Omarosa & Her Alleged Tapes Are Apparently Involved In The Russia Investigation Now
Alex Wong/Getty Images News/Getty Images
The ongoing feud between President Donald Trump and his former senior aide may now be taking a serious — and potentially legally risky — turn. An NBC interview on Tuesday, Aug. 14 signaled that Omarosa Manigault Newman is involved in the Russia investigation. The former Apprentice contestant and member of Trump's inner circle confirmed that she'd been interviewed by FBI Special Counsel Robert Mueller. The Office of the Special Counsel declined to comment to Elite Daily on Manigault's claims.
Speaking with NBC's Katy Tur, Manigault was asked whether she'd been questioned by Mueller, who is leading the investigation into possible obstruction of justice and possible collusion between the Trump campaign and Russia leading up to the 2016 election. She said she had.
When pressed about her interview with Mueller, she declined to say more. "That's the extent I can go in discussing that as well," Manigault told Tur on Tuesday. "I feel like my hands are tied because, as you know, I do love to communicate about the things that are going on in my life, but unfortunately I can't elaborate."
Manigault declined to say whether she'd sat before the grand jury, or to confirm whether she either had in her possession or would turn over more tapes.
Her confirmation that she'd interviewed with Mueller followed up on a statement she'd made on NBC on Monday. When asked whether she'd cooperate with the special counsel, she told Chris Matthews, "If his office calls again, anything they want, I'll share."
Manigault has been in headlines for several days leading up to the release of her new tell-all book Unhinged: An Insider's Account of the Trump White House, which is set to hit bookstores on Tuesday. In media appearances discussing her upcoming book, she has offered up a series of shocking claims about her account of the Trump administration and the president himself.
Among them was the claim that Trump had once used the N-word on the set of The Apprentice, a claim many have disputed as false, and about which Manigault's own account has been inconsistent. Overnight, CBS obtained what is said to be a recording by Manigault that the outlet says supports the claim but has not yet been verified. In a statement to the press on Tuesday, White House Press Secretary Sarah Huckabee Sanders said that while she herself hadn't heard such a tape, she "couldn't guarantee" that it didn't exist. President Trump also tweeted out what appeared to be a response to the allegation, saying that he doesn't have "that word in [his] vocabulary."
In another claim, Manigault asserted in her book that Vice President Mike Pence's staff jokingly referred to him as the president. On Monday, Manigault turned over secretly recorded audio to NBC regarding a conversation she claims to have had with Trump following her December 2017 dismissal, in which the president appears surprised and upset to learn of her leaving.
Trump, throughout Monday and Tuesday, has repeatedly taken to Twitter to bash his former staffer, calling her "wacky," "deranged," a "crazed, crying lowlife," and a "dog."
The news that Manigault might have in fact been brought in for questioning by Mueller coincides with a poll released Tuesday that just over half of U.S. voters believe the special counsel is being fair in conducting his investigation.
The investigation is reportedly also targeting longtime Trump ally Roger Stone and has pulled in at least eight of his associates in the process.
Mueller's investigation has already resulted in more than two dozen indictments and plea deals with both individuals and business entities, many of them Russian nationals and former members of Trump's campaign.
The Trump campaign has also reportedly taken legal action against Manigault in response to her public statements, claiming she violated non-disclosure agreements.