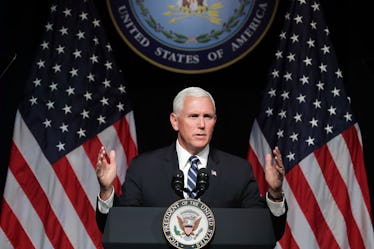 Omarosa Claims Pence's Aides Joked About Trump's Impeachment, So That's Awkward
Chip Somodevilla/Getty Images News/Getty Images
President Donald Trump's former aide has been all over headlines this week over revelatory claims she made about her time in the White House. In her new tell-all book, which releases on Tuesday, Aug. 14, Omarosa Manigault Newman makes some shocking claims about the president and those around him. Among them: that Vice President Mike Pence's aides would joke about Trump's impeachment. Elite Daily reached out to Pence's office for comment on the claims but did not hear back at time of publication.
A former contestant on The Apprentice, Manigault has been on a media blitz ahead of the release of her book Unhinged: An Insider's Account of the Trump White House, and revealing some of her account along the way. The president hasn't responded kindly to her claims, lashing out at his former staffer on Twitter. One of those claims, however, has less to do with anything Trump said or did, but about what others in his orbit reportedly think might happen to his presidency.
According to her reported account, Manigault describes a culture in which she claims the VP's staff would reportedly toy with the idea of a Pence takeover. In her book, she reportedly writes,
The first thing I noticed was that people on his staff kept slipping up and calling him president — accidentally sometimes. Jokingly, in private, I heard people say things like, 'When we're in charge...' or 'Once you become president...'
And according to her, it wasn't just aides who were projecting that possibility onto the president's right-hand man. Manigault said she believed Pence himself was on board with the prospect of taking over, reportedly writing,
I suspected that Pence was just biding his time, looking the part of the perfect VP, until Trump resigned, was impeached, or served his term.
"We always knew this would happen to Mike. He's always wanted to be president … I mean vice president!" one of his brothers said with a wink ... It was a real joking-not-joking look, and I filed it under "keep an eye on that situation."
Pence's desire to become president apparently, as Manigault Newman claims, has been a driving force since the get-go. "[E]veryone wishing for impeachment might want to reconsider it," she reportedly wrote, per The Atlantic. "We would be begging for the days of Trump back if Pence became president."
This isn't the first time Manigault has made such a statement. Back in February, during an episode of Celebrity Big Brother, she expressed the same wariness of a Pence presidency (almost word-for-word the same terms):
Can I just say this? As bad as y'all think Trump is, you would be worried about Pence. ... We would be begging for days of Trump back if Pence became president, that's all I'm saying. He's extreme.
Omarosa's claims about Pence and his staff were among many Manigault reportedly makes in her book. On Monday, she released audio tape to NBC that she says was a secret recording of a conversation she had with Trump following her December 2017 dismissal. In the tapes, it appears the president apparently wasn't aware of the decision, suggesting a White House staff under fragmented leadership. In another claim, Manigault says Trump once used the N-word, though she contradicted herself in recalling whether she heard this directly or through a recording shared with her. White House Press Secretary Sarah Huckabee Sanders denied this claim, per NBC.
In response to the claims of his former staffer, Trump has been repeatedly attacking Manigault and dragging her credibility on Twitter.
At this point, it remains unclear whether Pence's staff actually did make jokes about Trump's impeachment and Pence's hypothetical presidency, as Manigault claims, or why.