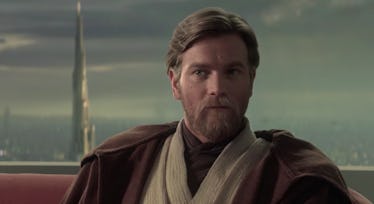 New Rumors Suggest An Obi-Wan Kenobi 'Star Wars' Movie May Be Coming & This Is Huge
20th Century FOX
When Disney and Lucasfilm decided to leave Solo: A Star Wars Story in their original premiere spot on May 25, 2018, while allowing Star Wars: Episode IX to push back to Dec. 20, 2018, they were just leaving Solo out to dry in an outlier calendar position. They were dooming fans across the world to an 18-month gap between films, where the most insane rumors could take root and grow in the absence of real data. The worst of these have been on the Star Wars stand-alone films. Is an Obi-Wan Kenobi Star Wars movie happening? If those who run the production studios are to be believed, then yes.
The facts in the case are thin on the ground. What is known for sure is this: After months of rumors the next stand-alone Star Wars film would be focused on Obi-Wan Kenobi, and could even feature Ewan McGregor returning to the role, Lucasfilm did not announce it. Instead, in the heady days when it looked like Solo: A Star Wars Story was going to bring in $150 million+ on opening weekend, The Hollywood Reporter revealed instead it was moving forward with a Boba Fett movie.
Of course, then Solo crashed at the box office, and the supposed writer and director James Mangold came out and insisted The Hollywood Reporter had no idea what it was talking about.
A few weeks later, Collider came out with what it insisted was a legit scoop. In light of Solo's failure at the box office, Lucasfilm was halting all stand-alone Star Wars movies. In truth, we'll never really know what these guys heard, but within a few hours, Lucasfilm was giving non-official statements through ABC News (which is also owned by Disney) correcting the record that nothing was on hold. How could there be? No stand-alone Star Wars movies were confirmed by them in the first place. Everything that was established was still moving forward.
That's where things stood until this week. But the rumor mill doesn't stay quiet for long. This time, the information comes as a sidecar from a different story. The Belfast Times reported earlier this week the upcoming Game of Thrones spin-off was scheduled to start filming their pilot this October. It offhandedly mentioned this was part of a boon to the area, as other films would be coming in 2019, including "the latest spin-off in the Star Wars franchise coming here in April 2019."
As Sunday Life exclusively revealed in February, Star Wars creator George Lucas visited Northern Ireland before Christmas to seal the deal for the new standalone film. The movie will centre on the life of Jedi master Obi-Wan Kenobi, with Ewan McGregor reprising the role he first played in 1999's Star Wars prequel The Phantom Menace.
April 2019 is not that far out. Meanwhile, Lucasfilm has announced trilogies that won't even begin to consider going into pre-production until 2020, like the one from Game of Thrones writers David Benioff and Dan Weiss. If there really is a stand-alone Star Wars movie starring Ewan McGregor that has booked out time and space in Titanic Studio's Paint Hall, shouldn't we be hearing an announcement already?
Not necessarily. Lucasfilm keeps a very tight lid on everything it is doing. Though the Rian Johnson trilogy was not unexpected when it was announced, the trilogy from Game of Thrones' Benioff and Weiss was a thunderbolt from nowhere. This is a production house that runs a tight ship. They could be working to get contracts, directors, not to mention McGregor himself, nailed down for the production, and announce it when they're good and ready.
Until then, the only things fans can count on for sure is that Star Wars Episode IX will arrive in theaters on Dec. 20, 2019.