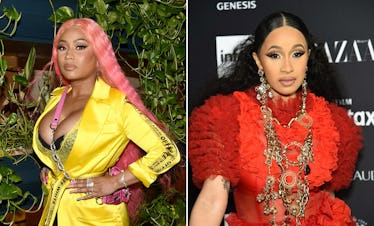 Cardi B & Nicki Minaj Had A Social Media Interaction That Could Mean Their Feud Is Over
Bryan Bedder/Dimitrios Kambouris/Getty Images Entertainment/Getty Images
If you were wondering whether or not rappers Nicki Minaj and Cardi B would ever just call their entire feud off, it looks like today might be your day. The rappers have been bringing the ~drama~ in heaps and bounds lately, and each has been throwing massive amounts of shade at each other — both online and in person. Has it been entertaining? In a way. Has it been frustrating that two absurdly talented artists can't see eye-to-eye? Absolutely. But now, it seems that there may be a truce, and all I can say is hallelujah, because their back-and-forth was actually making me dizzy. So, is Nicki Minaj and Cardi B's feud over? Like, really, really, over? Let's discuss.
I'm going to spare you all the glorious details about Minaj and Cardi B's previous feuds and focus on what we've been dealing with the past few days, because writing out a timeline of their drama would probably take me days (or more, if I'm being honest). What you need to know is that things got heated between the two rappers again when Minaj went on Queen Radio to talk about her altercation with Cardi B at the Harper's Bazaar Icon party at The Plaza Hotel.
Not one to take things lying down, Cardi B took to Instagram and dragged Nicki Minaj on Monday, Oct. 29 in a series of videos talking about her issues with the rival rapper and ultimately threatening to sue Minaj for "defamation of character."
You can watch the first of Cardi's ten videos calling out Nicki Minaj below:
Elite Daily reached out to Cardi B and Minaj's team for comment on Cardi's claims, but did not hear back by the time of publication.
If you want to watch the rest of Cardi's rant session, head over to Cardi B's Instagram, because I don't have enough hours in the day to post the remaining nine.
Now, look. I, along with probably the rest of the universe, assumed that Nicki Minaj would fire up some videos of her own, calling out Cardi B for some reason or another. But it looks like we got somewhat of a truce instead, and I am literally crying tears of joy.
After Cardi B uploaded her videos to Instagram, Nicki Minaj took to Twitter to seemingly raise the white flag. On the night of Monday, Oct. 29, Minaj wrote,
Ok you guys, let's focus on positive things only from here on out. We're all so blessed. I know this stuff is entertaining & funny to a lot of people but I won't be discussing this nonsense anymore. Thank you for the support & encouragement year after year. Love you.
Did... did Nicki Minaj just essentially tell the world that she's moving on from this never-ending fight with Cardi B, and we should all do the same?
Color me impressed.
But you know what they say: it takes two rappers to have beef. So where does Cardi stand with this new and enlightened information?
Well, you guys, this is my favorite part of the whole damn thing.
Cardi B screenshotted Minaj's tweet and posted it to Instagram, captioning it, "alright then! Let's keep it positive and keep it pushing!"
YES, FAM. This means that both Nicki Minaj and Cardi B seemingly called off their feud, and the world can finally (hopefully) live in harmony.
While we don't know if the pair will ever end up hugging it out and turning into friends, we do know that we can rest easy knowing that their drama seems to be fading fast... for today, at least.