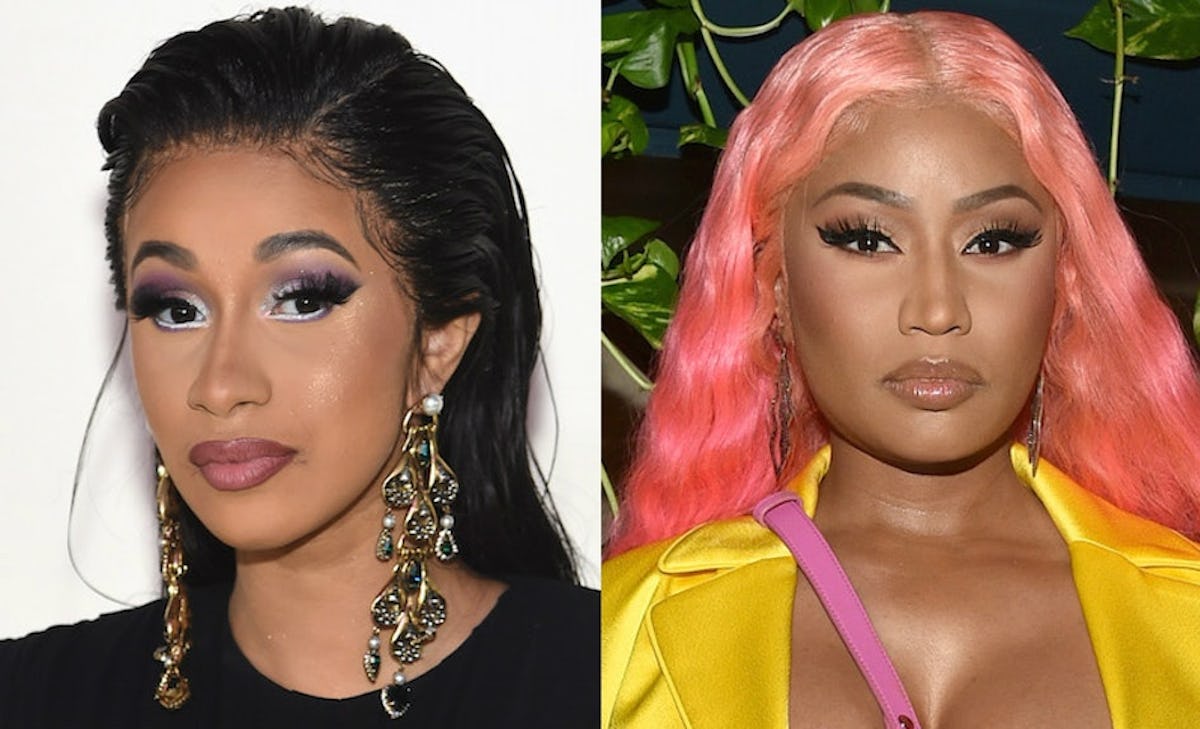 Here Are All The Shady Things That Nicki Minaj & Cardi B Have Said About Each Other
JAMIE MCCARTHY/BRYAN BEDDER/GETTY IMAGES
Celebrity relationships and friendships are a rare breed. These famous faces have their lives played out in front of the masses, whether it's the good, the bad, or the straight-up shady. In Elite Daily's new series, It's Complicated, we're highlighting the biggest celebrity "feuds" that took over Hollywood and dominated our Sunday brunches for weeks on end. We'll take a deep dive into the lives and social media feeds of our favorite stars and dissect what happened in front of the camera, what went down behind the scenes, and everything you might have missed in between.
Nicki Minaj and Cardi B have had a lot to say about each other in the past couple of years. With their feud reaching a fever pitch in early September 2018, things between the two rappers have seriously taken a turn. And everything they've had to say about the other definitely reflects that. Since their feud has gotten so incredibly heated, it's difficult to keep track of all the shady things Nicki Minaj and Cardi B said about each other to lead up to this. So, here's a compilation of pretty much everything that's been said so far.
May 2017
The Nicki Minaj and Cardi B. feud started to get really heated in May 2017, when Minaj was featured on Katy Perry's track "Swish Swish." In the song, Minaj raps:
Silly rap beefs just get me more checks / My life is a movie, I'm never off set / Me and my amigos (no, not Offset)
Many fans took this as a swipe at Cardi, especially since the lyrics reference Cardi's husband, Offset, of the rap group Migos. Not long after, Cardi took to Instagram to express her frustration over how "fake" the music industry is and about "idols becoming rivals." Here's what she said, according to People:
I hate this sh*t, I really, really do. A b**ch like me, I was happier when I was macking in the hood. This sh*t right here is so fake. When I used to be a regular b**ch from the Bronx — a hood b**ch — when somebody used to be fake to me, it was cool because I could approach a b**ch and punch her right in her closure... Now that I'm in the industry, you don't work like that, just have to watch sh*t go, watch sh*t go.
June 2017
In June 2017, Cardi tweeted a really vague message about not comparing her to other rappers. Since her feud with Minaj was well underway by then, many fans took the tweet to be a reference to her. Here's what Cardi said:
August 2017
As if all that wasn't enough, Minaj added fuel to the fire in August 2017 when she recorded for London on da Track's "No Flag," which also featured Offset and 21 Savage. This is what Minaj raps in the song:
I heard these labels are trying to make another me / Everything you're getting, little h*e, is because of me
Naturally, fans were pretty sure this verse was about Cardi. Minaj, however, denied that was true:
The very next day, Cardi took to Twitter to say her peace (without naming Minaj, of course):
September 2017 to September 2018
For almost a year, Cardi and Minaj were relatively quiet and keeping the shade to a minimum. There were a few hiccups in October 2017, when Cardi suggested that Minaj's verse on "MotorSport" was different than what she'd initially heard and Minaj responded with some strongly worded tweets, but other than that, everything was pretty calm.
That is until the Harper's Bazaar New York Fashion Week party on Sept. 7, 2018. The two rappers got into an altercation that reportedly resulted in a lump just above Cardi's eye and a shoe thrown at Minaj. Elite Daily reached out to Minaj and Cardi B's teams about the altercation at the time, but did not hear back by the time of publication.
Here's a video of the incident:
Once news got out about the incident, Cardi took to Instagram to explain her side of the story:
Elite Daily reached out to Cardi and Minaj's teams for comment on this Instagram post at the time, but did not hear back by the time of publication.
Days later, Minaj told her side during an episode of Queen Radio:
The way [these upper echelon people] passed by looking at this disgusting commotion, I was mortified. How we, and I'm going to use WE loosely, made ourselves look was mortifying… I would never talk about anyone's child or parenting. I don't care about anyone's parenting. I am not a clown, that's clown sh*t.
Elite Daily reached out to Cardi and Minaj's teams regarding these comments at the time, but did not hear back by the time of publication.
October 2018
In an October 2018 interview with W Magazine, Cardi opened up about her Sept. 7 altercation with Minaj:
For a while now she's been taking a lot of shots at me. I spoke to her twice before, and we came to an understanding. But she kept it going.
The tipping point came when Minaj allegedly liked a tweet that disparaged Cardi's parenting skills. And that was apparently something Cardi couldn't let slide.
"I was going to make millions off my Bruno Mars tour, and I sacrificed that to stay with my daughter," Cardi said. "I love my daughter. I'm a good-ass f**king mom. So for somebody that don't have a child to like that comment? So many people want to say that party wasn't the time or the place, but I'm not going to catch another artist in the grocery store or down the block." Elite Daily reached out to Cardi and Minaj's teams regarding these comments, but did not hear back by the time of publication.
And that's pretty much where things stand. Needless to say, the whole thing is wild and probably not over just yet!