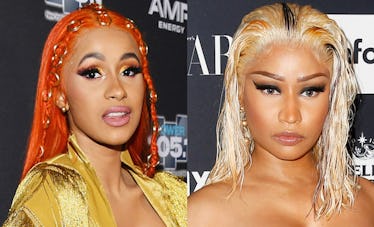 Cardi B Just Dragged Nicki Minaj For Allegedly Lying About Her In A 11-Video Instagram Rant
Dave Kotinsky/Dominik Bindl/Getty Images
Someone call Nicki Minaj and make sure she's OK, 'cause Cardi B just dragged her on Instagram. Minaj brought up their fight at the Harper's Bazaar ICONS party during a new episode of Queen Radio on Apple Music on Monday, Oct. 29. Minaj claimed Cardi was beaten up by Rah Ali at the party and that she would pay $100,000 to whoever can get her the footage of that. Minaj had previously said that she had the footage, however. Cardi pulled out all the receipts just hours later, and the videos of Cardi B dragging Nicki Minaj for allegedly lying about her are just... they're just... a lot. Elite Daily reached out to both Cardi and Minaj's teams for comment on the claims made on Queen Radio and Cardi's Instagram, but did not hear back by the time of publication.
Minaj said during Queen Radio on Oct. 29, "Rah beat you so bad that I was mad at Rah. You went home and told people security hit you, and we let that ride for legal reasons. Anybody that wanna pull up the surveillance footage, I will give you $100,000." She had previously said that she had footage of the alleged fight between Cardi and Ali, but that comment offering money for the footage makes it seem like she didn't have the reported footage in the first place.
This was the last straw for Cardi. The rapper fired back at Minaj in not one, not two, not three, but 11 videos on Instagram, picking apart every single piece of their beef. There's honestly not enough time in the day to unpack everything she claimed about Minaj in the videos, but they make it clear just how done Cardi is with this whole thing.
"You lie so much you can't even keep up with your f*cking lies," Cardi said, referencing Minaj's comment about the aforementioned footage. "First, you say your cameraman got the footage, but now you want to pay someone $100,000 if they give you the footage?"
Cardi. Went. IN.
Head over to Cardi B's Instagram if you want to watch all 11 videos. She touches on quite a bit in the epic rant, from claiming Minaj was salty that her song with G-Eazy, "No Limit," was a hit (since Minaj passed on the track) to, again, claiming that someone in Minaj's camp was leaking her circles' phone numbers (a claim Minaj refuted on Queen Radio). And that's just brushing the surface!
These videos, of course, aren't the only comments Cardi has made directly at Minaj on Instagram. The day after their fight at the Harper's Bazaar party on Sept. 7, Cardi posted a message to Minaj to her Instagram. "I've let a lot of sh*t slide! I let you sneak diss me, I let you lie on me, I let you attempt to stop my bags, f*ck up the way I eat!" the message started, "But when you mention my child, you choose to like comments about me as a mother, make comments about my abilities to take care of my daughter, is when all bets are f*ckin off."
Minaj responded to Cardi's videos on Twitter (albeit not as directly as Cardi did). At first, she posted a bunch of tweets that continued the fight, but then she changed the tone and called for an end to the fighting.
She said,
Ok you guys, let's focus on positive things only from here on out. We're all so blessed. I know this stuff is entertaining & funny to a lot of people but I won't be discussing this nonsense anymore. Thank you for the support & encouragement year after year. Love you.
I will never forget the night I watched EL. EV. EN. videos of Cardi B dragging Nicki Minaj during my Lyft ride home. Not until the day I die.