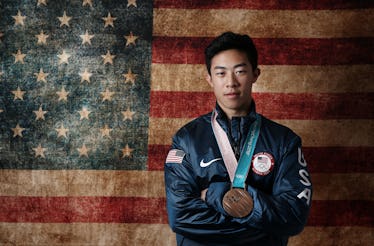 Nathan Chen Had To Miss The Olympics Closing Ceremony For The Saddest Reason
Marianna Massey/Getty Images Sport/Getty Images
The 2018 Winter Olympics come to an end on Sunday, Feb. 25 as marked by the closing ceremony at PyeongChang Olympic Stadium. As you look back on your favorite Olympic moments, you're probably thinking of a few athletes in particular that caught your eye. One member of Team USA that displayed some major talent on the ice is Nathan Chen. Chen had some ups and downs during the games, but his fans certainly want to see him representing Team USA all the way up to the end of the games. So, is Nathan Chen at the 2018 Olympics closing ceremony?
Unfortunately, Chen wasn't on hand during the closing ceremony on Sunday to join his fellow Team USA teammates representing the United States in the 2018 Winter Olympics one last time. The 18-year-old U.S. figure skater appears to have gotten sick and flew back to the United States ahead of the closing ceremony. According to USA Today, Chen was invited to perform at the Olympics exhibition gala for skating, but after getting the flu, he left the Olympics to get better — and to not infect other athletes on Team USA who still had to compete.
Chen didn't reach all of his Olympic goals throughout the games, but he did earn a team event medal as he helped Team USA win the bronze in the ice skating team event. While the young Olympian didn't nab an individual medal, he still has plenty of time to do that.
Looking back at Chen's 2018 Winter Olympic performance, he has good reason to be proud of his efforts. One of the bright spots of Chen's performances came during his long program in the free skate competition on Feb. 17. Chen landed a history-making six quad jumps in his long program, and they helped him earn a career best score of 215.08 points in the free skate.
According to TIME, Chen set an Olympic record by successfully landing the six quad jumps (with each one requiring four full revolutions in the air) in his long program. Not only did Chen set the new Olympic record, but he also held the previous record of five quad jumps in a program, which is why they refer to him as the "quad king."
Even though Chen's Feb. 17 record-breaking free skate performance was impeccable, he couldn't overcome his disappointing short program score of 82.27 to make it to the medal podium. Although an individual event medal alluded him during these games, Chen still has his team bronze medal to take back home with him.
Once again, though, Chen is only 18 years old — so there is still a chance for him to possibly compete for that individual medal in the 2022 Winter Olympics in Beijing.
In the meantime, Chen was busy being a great teammate and a standup member of Team USA. A report on the official NBC Winter Olympics website read that even after failing to medal in the men's free skate competition, Chen planned on staying in PyeongChang through the closing ceremony on Sunday, Feb. 25. Even though Chen couldn't stay to represent the United States in PyeongChang Stadium during the closing ceremony, he did cheer on his fellow Olympic teammates during the last week of the games after all of his competitions were completed.
Chen told NBC that he hoped to watch bobsled competitions and a hockey game. I don't know if Chen got to take in all the events that he wanted to, but he definitely wanted to be there at the closing ceremony representing Team USA one last time at the 2018 Winter Olympics. Chen has so much to be proud of and so much to look forward to, so I know that his fans were sad to see he couldn't make the closing ceremony after coming down with the flu. Hopefully he feels better soon!