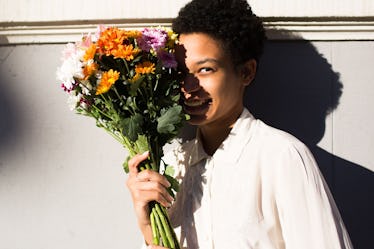 9 Normal Dating Experiences That You Shouldn't Feel Ashamed Of At All
Sometimes it feels like we live in an age of constant comparison: How big is your apartment? How much money do you make? How many people viewed your last Insta Story? While a degree of comparison can be healthy and motivating, it can also provoke anxiety. If you're looking to your friends and peers to sort of gauge your general progress in life, you'll likely find yourself comparing your dating exploits and romantic adventures against theirs, and you might wonder if your love life is normal.
I had a serious boyfriend through all four years of college and once we graduated and parted ways, I remember feeling a little insecure that I'd never really dated. While my pals were dating pros, I didn't even know how to go on a first date — what should I wear? What should I say? What should I do with my hands? We all have different priorities and paths and if you're a serial monogamist or a lone wolf, that doesn't make you a weirdo. (Many other things might make you a weirdo and I personally love me some weird!) While you might feel anxiety or even shame around certain dating experiences, or lack thereof, take comfort because you're not alone.