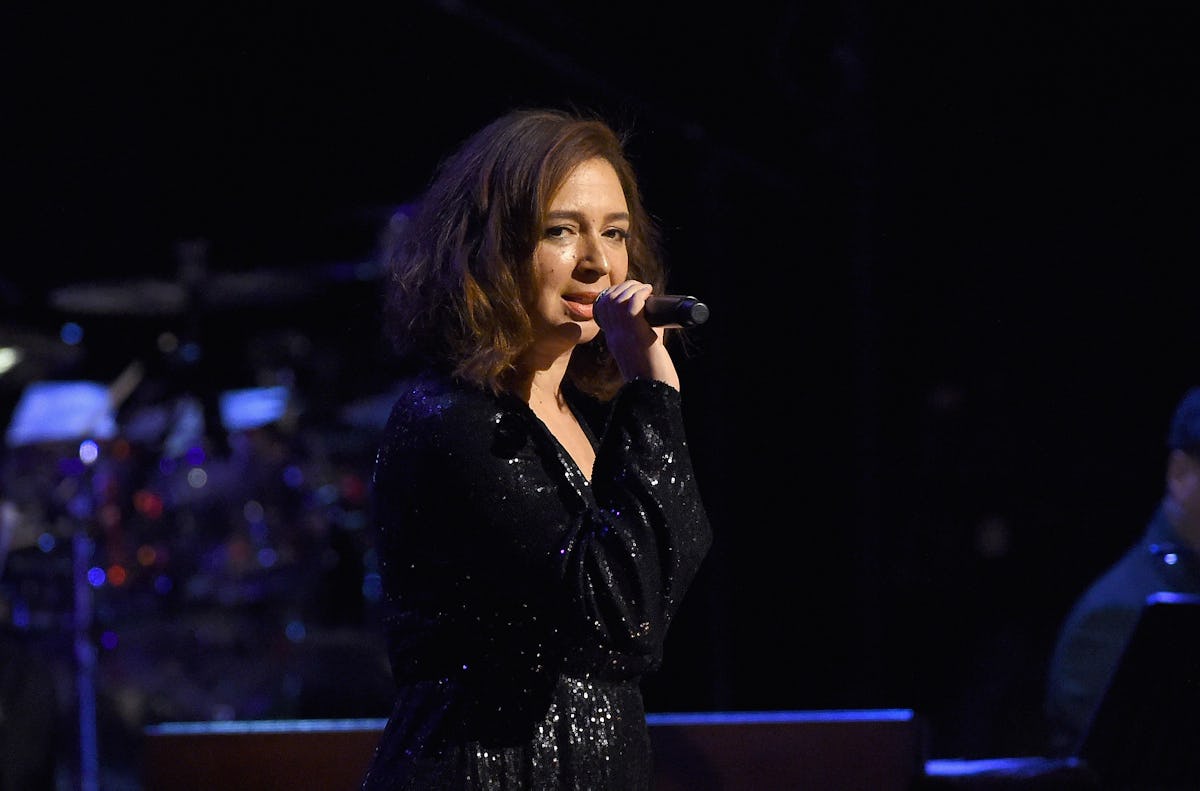 Maya Rudolph Stars In 'A Christmas Story Live!' Musical, But Can She Sing?
Mike Coppola/Getty Images Entertainment/Getty Images
A Christmas Story is getting the live musical treatment on Fox this season, and its got the perfect cast of actors to bring the humor, heart, and music of the beloved classic to life. But one thing you might be wondering as you sit down to watch the special on Sunday, Dec. 17 is whether or not the stars are actually singing live or lip syncing their numbers. So are Matthew Broderick, Jane Krakowski, and Maya Rudolph lip syncing in A Christmas Story Live!? Here's what you need to know.
In order transform the original 1983 A Christmas Story into a televised musical, Fox brought on a cast that it knew could actually sing live. That's right — all the songs in the live musical are just that: live. Maya Rudolph, who plays Ralphie's mother in the adaptation, opened up about her fear of singing live, but also the excitement that went into it:
In all the things that I've ever had to do in front of an audience, it's singing that scares me the most. It's a very vulnerable part of myself. I just feel completely naked singing... It's different because this is a musical, but it's TV, but it's like making a movie, but it's live. It's like a different genre, it's sort of like wine blend.
Of course, this isn't Maya Rudolph's first time performing live (eight years of Saturday Night Live proved she's a pro), and she's also no stranger to singing live. Before Rudolph became famous for comedy, she was actually pursuing music, as a member of the '90s rock band The Rentals. She went on to show off her singing chops in various skits throughout her time on SNL, and off-screen in her Prince cover band, Princess. But despite her vast live television and singing experience, A Christmas Story Live! will be Rudolph's first musical. Her big number in the show is called "What A Mother Does."
And Maya Rudolph isn't the only member of the cast ready to sing live. Matthew Broderick is playing the story's narrator Jean Shepherd, who is an older version of the protagonist Ralphie. Although Broderick's role actually isn't involved in much of the musical numbers, he has definitely proven he can nail any live number he's involved — just ask his two Tony Awards. Broderick has delivered countless iconic Broadway performances, including leads in hit musicals How to Succeed in Business Without Really Trying and The Producers.
Another massive Broadway star taking the stage is Jane Krakowski, who TV fans will recognize from 30 Rock and The Unbreakable Kimmy Schmidt. Performing as Ralphie's teacher Miss Shields will be just another day on the stage for Krakowski, who's proven her Broadway prowess for years, taking home a Tony in 2003 for her lead role in Nine. She will be performing the big number named after one of the most iconic lines in A Christmas Story: "You'll Shoot Your Eye Out."
Chris Diamantopolis will be playing Ralphie's overzealous, lamp-loving father, known affectionately only as The Old Man, and you guessed it: he's another Broadway vet with the pipes to prove it. He began appearing on Broadway in the early 2000s with lead parts in musicals like Les Misérables and The Full Monty, and most recently starred in the currently running Broadway musical Waitress. For TV fans, you'll recognize Diamantopolis from his roles on various hit comedies like Silicon Valley, The Office, and Arrested Development. He also starred in the short-lived gem of a workplace drama Good Girls Revolt.
As for the star of the show, Ralphie Parker will be played by a boy named Andy Walken, whom Fox found after announcing a nationwide casting call. The rest of the cast is rounded out by reliable comedians: Ken Jeong, David Alan Grier, and Ana Gasteyer. Grier showed off his singing chops as the Cowardly Lion in NBC's live version of The Wiz a couple years back, and Gasteyer is another trained singer on the cast, having released an album of jazz standards, I'm Hip, in 2014.
With all these talented singers in the cast, of course they're going to be singing live! A Christmas Story Live! will air Sunday, Dec. 17 at 7 p.m. ET on Fox.