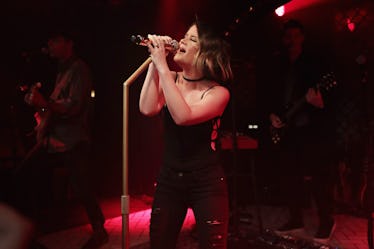 Maren Morris Is Engaged To Another Singer & Their Relationship Is The Cutest
Cindy Ord/Getty Images Entertainment/Getty Images
The County Music Awards are upon us, and you know what that means... cowboy boots, twang, and country star Maren Morris looking like a damn country dream. Morris has slowly been taking over with her hits "My Church" and "I Could Use A Love Song" off her debut album HERO, and now, she is nominated for three awards at the 2017 CMAs. Not for nothing, this girl is stealing hearts across the nation leaving lots of us wondering, is Maren Morris single? and alas, dreamers, she isn't. In fact, she's engaged.
Morris, 27, announced her engagement to fellow country singer Ryan Hurd, 32, earlier this summer and the two couldn't be happier.
Hurd, whom you might know for writing No. 1 songs for folks like Blake Shelton, first met Morris in a writers' session in 2013. After that, they became fast friends. Morris previously told People, "We were both at different publishing companies, and our publishers' job is to fill our calendars up, so they just randomly put us together on a write one day."
Fast forward another two years, and they began dating. Fast forward yet another two years and now they're engaged and headed for country singer marital bliss.
Hurd and Morris stepped out on the ACM Honors red carpet for their first appearance as an engaged couple back in August, where Hurd let Entertainment Tonight in on what went in to picking out the seriously stunning ring.
He said,
I know what she likes and I had somebody in Canada put it together. The stone is from New York City, it's from an uncut diamond, and then the rest of its cast just custom for her. I couldn't just buy something. I had to make it something that fit her.
And holy sh*t you guys, did he do a good job.
Morris announced their engagement by posting a photo of the truly gorgeous bauble (and a Corona Light) with the caption, "Yes."
You can catch an even better close up of the diamond in her more recent post promoting the CMA's. She captioned this stunner, "Countdown to CMA's y'aaaaaall. #noalcohol#killme".
The Corona was noticeably left out this time.
Like anyone who is finding out the love of their life is proposing might respond, Morris says she totally freaked out when Hurd got down on one knee.
She explained,
Oh, I sobbed. I mean it was so emotional and so perfect. He's a very thoughtful human being, and I feel like the proposal was just as thoughtful as he always is. So it was perfect.
So thoughtful and so perfect, eh? Sounds about right.
Fans are excited to see if they can catch a glimpse of the rock during Morris' CMA performance, where she is set to duet with Niall Horan on his song "Seeing Blind."
Morris announced the good news on Twitter, writing, "See you soon, CMA! @NiallOfficial & I are gonna have SO much fun playing that legendary stage! #IrishCountryExplosion."
She capped the tweet off with a shamrock and boot emoji.
Horan responded to the good news writing, "Can't wait to share the stage with ya darling. Going to be a great night."
Morris is nominated for Female Vocalist of the Year, Musical Event of the Year and Music Video of The Year, but what about... wedding of the year?
For now, Morris says she and Hurd are "moving at a glacial pace" when it comes to wedding planning, but they are aiming for some time in the spring before their respective tours kick off.
Catch Morris and all of your other country favorites at the CMA's Wednesday, Nov. 8 at 8 p.m. EST on ABC.
Check out the entire Gen Why series and other videos on Facebook and the Bustle app across Apple TV, Roku, and Amazon Fire TV.