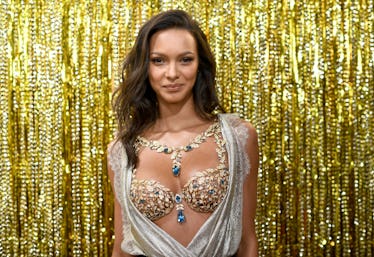 4 Things To Know About Lais Ribeiro Before She Walks In The VS Fashion Show
Dimitrios Kambouris/Getty Images Entertainment/Getty Images
I don't know if it's their long legs or fascinating Instagram accounts, but I adore the clan of Victoria's Secret models. I genuinely feel like they are all living their best lives and I can appreciate and respect that. One angel who has been getting tons of attention lately is Lais Ribeiro. The beauty is set to wear this year's fantasy bra, priced at $2 million. This is a huge honor, and fans definitely want to know more about the model. Below are answers to a lot of questions you may have about the angel — including, is Lais Ribeiro single?
Ribeiro has a really interesting background and story to credit her career. She's come a long way in her career, and becoming the angel to sport the fantasy bra is a very big deal. Ribeiro broke the news herself on Instagram Nov. 1. She said in the post,
I've been holding this secret for too long and I am beyond honor to announce that I will be wearing it the Champagne Nights Fantasy Bra this year! I am very happy and thankful for my Victoria's Secret family for trusting me and all the support from my on family, friends and fans! THANK YOU SOMUCH!!! its official!!
Ribeiro has walked in the VS Fashion Show since 2010 — she is extremely deserving of the honor. Besides strutting in a bra worth more than all my life's possessions, Ribeiro has a lot going on in her life. Below are four things to know about the model.
1. Her rumored boyfriend is an athlete.
Ribeiro has been linked to American basketball player Jared Homan. As of January of 2017, he played overseas in the Israeli Premier League. Besides being athletic, he is also supportive AF on social media. On Nov. 1, Homan took to Instagram to congratulate Ribeiro on being selected to wear the fantasy bra. He captioned the post,
Congratulations to this beauty on earning the coveted fantasy bra. Years of hard work and honing your craft has paid off. So well deserved as you are the anchor of support to so many people and have stayed true to yourself on this journey. Well done and here is to your continued success. Love you!
So, so sweet. Nice work, Lais.
2. She already has a main man in her life.
Homan is cute, but not as cute as Ribeiro's main man — her son, Alexandre. According to Business Insider, the model was just 18 when she gave birth to him in 2008. The two are adorable and seem to have tons of fun together.
3. She got discovered in her hometown.
Ribeiro is from the small town Piuauei, Brazil — where she also ended up being discovered. In 2009, she entered a local modeling contest. Not sure why it took until 2009 for someone to be like, "Hey, you're, like, the most beautiful human on the planet and you should model," but whatever.
According to Ribeiro in her VS angel bio, she walked in tons of amazing shows and was invited to do more in São Paulo, Brazil. Three months after that, she was on a plane to NYC and the rest is history.
4. Adriana and Alessandra are her inspirations.
Adriana Lima and Alessandra Ambrosio are some of the most famous models in the world who walk side-by-side with Ribeiro. They are more than just co-workers — they're her inspiration. Ribeiro says in her angel bio, "They are Brazilians and they are women who inspire me."
It seriously would be so scary to move to a new country for your booming career. It's amazing that Ribeiro is able to find a support system among the VS fam. She explained to People that becoming a Victoria's Secret model became the end game for her. She said,
I'm from a very tiny city in Brazil and I knew Gisele and Adriana and Alessandra, but I wasn't into the fashion world until I was in it. I was supposed to be a nurse, but when I was introduced to modeling it changed. I was like, 'I want to be a Victoria's Secret model.' Who doesn't wanna be? And now I'm just amazed to be one of them.
She seems so down to earth, and I love that Ribeiro was chosen to wear the fantasy bra this year.
As you can see, Lais Ribeiro has her sh*t together, and will be amazing on the VS catwalk. Don't miss the broadcast on CBS — the show airs at 9 p.m. ET on Nov. 28.
Check out the entire Gen Why series and other videos on Facebook and the Bustle app across Apple TV, Roku, and Amazon Fire TV.