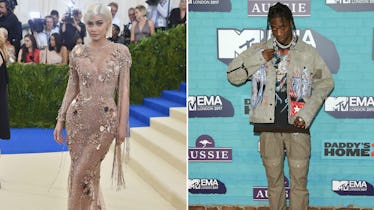 Kylie Jenner May Be On Travis Scott's New Song With Kanye West & I Can't Stop Listening
Theo Wargo/Andreas Rentz/Getty Images Entertainment/Getty Images
The drama-filled Kardashian cup has runneth over, y'all. With reports of cheating, new babies, Twitter rants, and weird new music (please don't tell me you haven't listened to "Lift Yourself" yet), it seems that each and every person tied to the Kardashian name has had a series of unexpected events thrown their way. But every now and then, something pretty cool can arise from an intense situation, and some of the Kardashians have banded together to do just that. On Thursday, May 4, Kanye West and Travis Scott released a new song "Watch" featuring Lil Uzi Vert, and I'm not going to lie, the (sort of) brothers-in-law are doing the damn thing and I don't hate it. But there's a special female guest appearance on the song that many are speculating about, wondering if Kylie Jenner is on "Watch." Turns out, yup, Jenner drops a few bars in the song with her boyfriend and brother-in-law — and she's pretty damn good.
So, OK, maybe she's just talking in the background rather than singing on the track, but I think it totally works.
In "Watch," West raps about his battle with opioid addiction (which he recently revealed he struggled with after getting liposuction), and some of his lyrics go:
Wanna know how I feel? Step into my minefield, Wanna know how pain feels? I got off my main pills, Bet my wifey stay close, she know I'm on my Bezos, Opioid addiction, pharmacy's the real trap, Sometimes I feel trapped, Jordan with no Phil Jack
And after West's lines, you can hear, ever-so-slightly, a female voice coming into play, which is none other than our girl Kylie. Her lyrics go:
We got bust down Rollies, bust down Rollies, And I told him I wanted to have a bust down baby
So cool, if only I actually knew what a "bust down Rollie" was!
(PSA: According to Urban Dictionary, it means "a very expensive piece of jewelry that has a broken down value to the brand but flooded with many diamonds around the Breguets, wristband & also face of the jewelry." The more you know.)
I still don't exactly understand it, TBH, but it sounds dope as hell.
You can listen to the entire song below:
The release of "Watch" comes at a time when the world is not too pleased with Kanye West's recent antics.
On April 15, Kanye West reactivated his Twitter account, and has since been on a tweet spree to end all tweet sprees. First, West turned heads by showing his support for Donald Trump, tweeting a photo of Donald Trump's signature Make America Great Again hat and calling the president his "brother":
You don't have to agree with trump but the mob can't make me not love him. We are both dragon energy. He is my brother. I love everyone. I don't agree with everything anyone does. That's what makes us individuals. And we have the right to independent thought.
And, much like bust down Rollies, I'm not 100 percent familiar with the term "dragon energy" and what that signifies, but apparently, West and Trump are both made up of it.
Then, on May 1, West appeared on TMZ Live and had some choice words to say about slavery, to which many are finding his comments unacceptable. The video of Kanye West discussing slavery shows him alongside host Harvey Levin discussing how, in his opinion, slavery "sounded like a choice." He said, "When you hear about slavery for 400 years. For 400 years?! That sounds like a choice." He continued, "Like, you was there for 400 years and it's all of y'all!?"
It's a total cringeworthy clip to watch, and you can easily understand why many were appalled at his remarks:
Here's hoping that Kanye West puts more focus into making music and a little less time on Twitter in the future. Maybe if he just puts all of his dragon energy into it, he could really make a comeback.