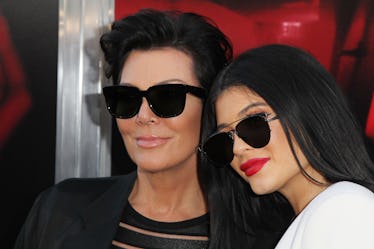 Kylie Jenner Has Something To Say About Those Rumors Kris Jenner Is Managing Travis Scott
David Buchan/Getty Images Entertainment/Getty Images
Kris Jenner is capable of anything. If it was revealed tomorrow that all of her children were actually robots and the last decade of Keeping Up With The Kardashians was a highly-orchestrated masterplan designed by Kris alone in her bedroom, I'd totally believe it. That's why I wasn't surprised when I heard stories about her dabbling in music and potentially managing her pseudo son-in-laws. Thanks to this latest wave of Kardashian rumors, fans are now asking the question — is Kris Jenner managing Kanye West and Travis Scott? According to Kylie Jenner, the answer is no. Elite Daily reached out to Kris Jenner's team for comment but did not hear back by the time of publication.
On Wednesday, April 4, the management theory began circulating on Twitter. One user named @Caleylacerda wrote, "Kanye West and Travis Scott have both recently left their respective management teams. I wouldn't be surprised if Kris Jenner was behind all of this, that woman is a business/branding genius. Especially with Kanye dropping his new album soon, she's definitely helping him out."
For one thing, Jenner has managed music before. She once signed the now-defunct girl group BG5 back in 2012, and you may remember that epic music video she made for her 30th birthday on her own accord. According to Buzzfeed, her late husband, Robert Kardashian, once ran a music video business, too. Plus, there is the whole empire she's created as super-momager to all of her children and their wildly successful careers. It's not too far of a stretch to imagine she's crossed over into rap music, too.
Level with me, guys. Crazier things have happened than Kris Jenner potentially managing Kanye West.
Plus, Page Six reported Jenner had something to do with Kanye West deciding to split ways with his longtime manager, Izcor "Izzy Zivkovic." A source claimed,
[Zivkovic and West have] been off and on for years. But Kris is in [West's] ears. Kanye's been making changes and [he and Zivkovic] have grown apart— but Kris definitely gives her opinion and Kanye's all ears. She's about brand building and is gangster at it.
Elite Daily reached out to Kanye West's team for confirmation on the Page Six report.
Additionally, Page Six reports Travis Scott left his management company, Three Six Zero, about a month ago. "[Kris] also told Travis Scott to fire Mark Gillespie" The source said. "[West and Scott] are 100 percent part of that Kardashian-Jenner brand." Elite Daily reached out to Scott's team for confirmation on the report.
Obviously, Twitter perked right the F up.
Listen, she's said it herself. Kris Jenner "knows a thing or two about rap music."
Just when fans were whipping themselves into mass hysteria, Kylie Jenner jumped on Twitter to shut the rumors down. In one simple post, Jenner officially denied the management accusations by the end of the day on April 4.
Kylie retweeted the headline rumor from Complex, and simply stated "this isn't true" with a face palm emoji.
Well, OK then.
Kylie's tweet sticks out on her feed because it is usually just populated with Kylie Cosmetics promotional posts and makeup videos. For this reason, it feels significant the youngest Jenner took the time to specifically shut down this rumor (out of all of the rumors circulating about her family at any given time.)
Maybe it's because she's protective of her baby's daddy and his career, or that it was causing drama inside of her family. Whatever Kylie's reasons for calling this lie out, I guess I believe her.
Don't get me wrong though, Kris. I know you are capable of doing literally anything you want. In fact, I was sort of looking for a manager of my own, if you're free...
Check out the entire Gen Why series and other videos on Facebook and the Bustle app across Apple TV, Roku, and Amazon Fire TV.