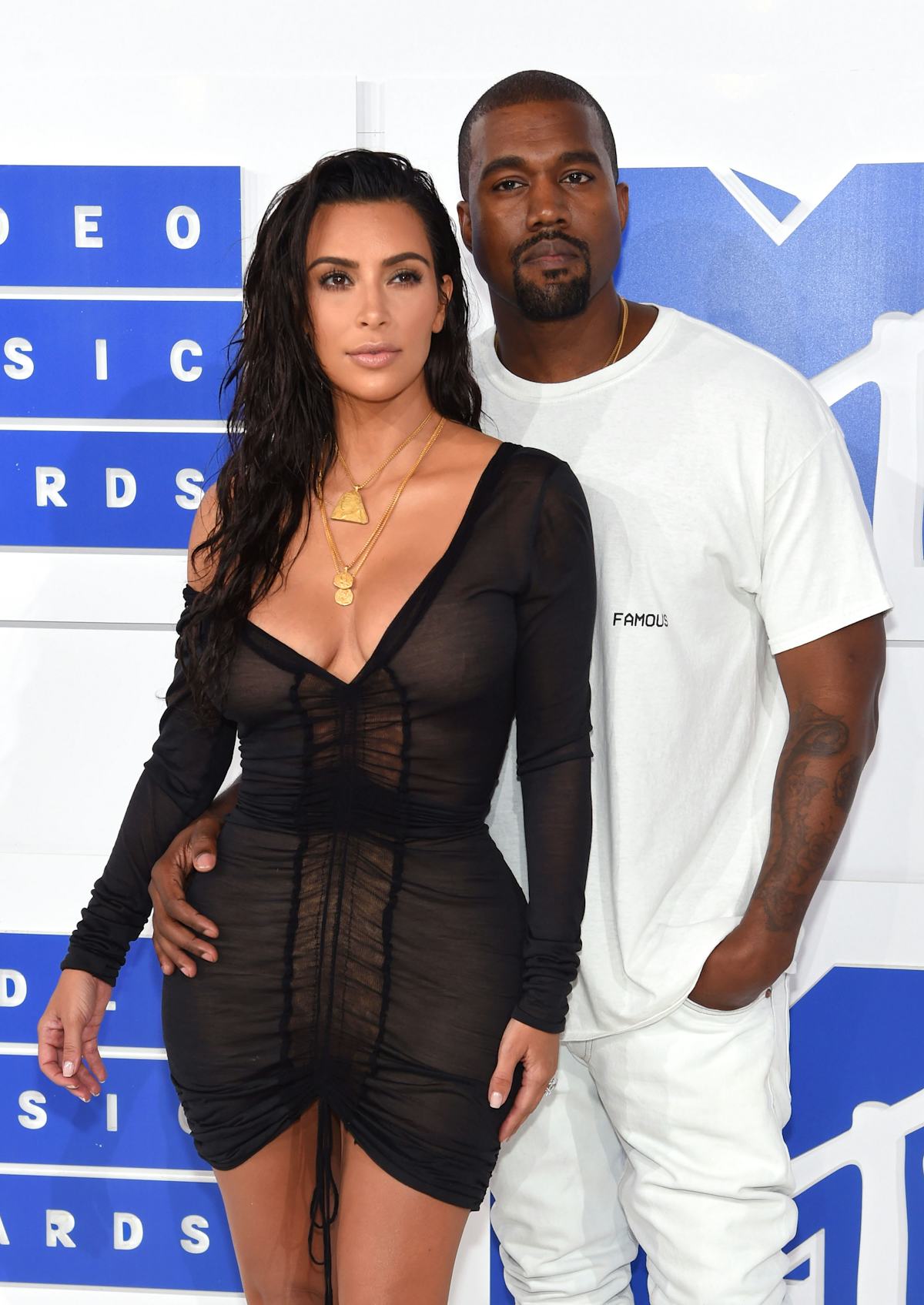 Here's How Kim Kardashian Will Be Involved With Donald Trump & Kanye West's Lunch
Jamie McCarthy/Getty Images Entertainment/Getty Images
It's only been a few weeks since Kanye West caused a huge upset with his politically charged appearance on Saturday Night Live. The 41-year-old rapper not only went off script and spoke out against the mainstream media, but he also voiced his support for President Donald Trump. And now West is meeting Trump for a special luncheon. But is Kim Kardashian going to Donald Trump and Kanye West's lunch? In truth, her presence during the meeting isn't likely. But who knows?
Elite Daily reached out to Kardashian's team for comment on whether she will attend the lunch, but did not hear back by the time of publication.
Even if she doesn't attend the lunch herself, she will definitely be involved in some capacity. In a recent interview with ExtraTV, Kardashian revealed the exact nature of West's meeting with Trump. According to Kardashian, the meeting will address "the city of Chicago and some exciting things that I feel like they have been planning, and I am really hopeful the president listens."
So, how will Kardashian be involved in the meeting? She's hoping to help West be a better communicator.
"I try to, I will try to help him communicate," she told ExtraTV. "I always say he isn't the best communicator, but he has the best heart. I know what he wants to accomplish… and I can't wait to see that happen."
West and Kardashian are in the midst of planning a big move to Chicago, so it makes sense that they're especially invested in doing what they can for the Windy City. The couple plan to set up a residence in the city and have Yeezy offices there as well.
And while all that's underway, West has been making lots of pretty controversial political statements. On Sept. 29, West appeared on the season premiere of SNL and spoke openly about politics, the media, and Trump.
While wearing a red Make America Great Again hat, West took to the stage to perform. In the midst of his performance, he started an unexpected speech during which he said:
I wanna cry right now. Black man in America, you're supposed to keep what you feel inside right now. And the liberals bully you and tell you what you can and cannot wear, where you and they can't not stare. And they look at me and say, 'It's not fair. How the hell did you get here?'
Later, he voiced his support for Donald Trump:
It's so many times that I talk to a white person about this, and they say, 'How could you like Trump? He's racist.' Well, if I was concerned about racism, I would have moved out of America a long time ago. We don't just make our decisions off of racism. Imma break it down to you right now: If someone inspires me and I connect with them, I don't have to believe in all they policies.
According to an Oct. 1 report from People, a source revealed that Kardashian stood by and watched while all this was going on.
"While Kanye talked Kim just stood in the back and watched. The kids were there, too," the source said.
The source speculated that Kardashian was comfortable with West's political statement since their relationship with the President has been relatively positive.
"She didn't seem like anything, she was just watching," the source continued. "Trump's been good to them so it seems they do really love him, even Kim. They all hung out for a bit afterward."
So, the fact that Kardashian is supporting her husband while he's in the midst of planning a meeting with the president isn't surprising at all. Hopefully, the meeting between West and Trump will bring about some good.