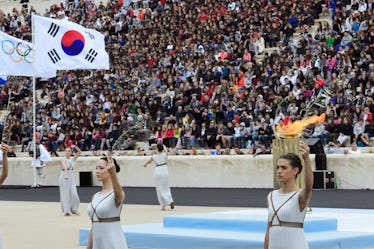 This Is Who You Should Look For From North Korea At The PyeongChang Opening Ceremony
Milos Bicanski/Getty Images Sport/Getty Images
Everyone around the world is flocking to South Korea for the PyeongChang 2018 Winter Olympics opening ceremony on Friday, Feb. 9. Athletes are getting ready to bring home the gold, spectators are gearing up to cheer for their countries, and everyone is still trying to figure out curling. Amongst all this excitement heading into the games, there's still one politically-significant figure to consider, as people are wondering if Kim Jong-un is at the 2018 Olympics opening ceremony.
Kim Jong-un is the supreme leader of North Korea, which has long been a rival of South Korea, but it looks like he might want to use the PyeongChang Olympic Games as sort of an olive branch. Kim Jong-un said in January, according to The Daily Express, that the Winter Olympics "will be a good opportunity to display the status of the Korean nation, and we sincerely wish that the event will be held with good results."
In order to see this position come to fruition, both North and South Korea are set to march in the Olympics opening ceremony under the Korean Unification flag. On top of that, North Korea has also sent athletes in five sports: alpine skiing, cross-country skiing, figure skating, ice hockey, and short-track speed skating.
However, it does not appear that Kim Jong-un will be making an appearance at the Olympics opening ceremony himself. Instead, Jong-un is sending his younger sister, Kim Yo-jong, to South Korea as part of its delegation, which is led by Parliament President Kim Yong-nam, according to CNN. She is scheduled to arrive at Incheon International Airport, in South Korea, on Friday afternoon and attend the opening ceremony.
South Korea believes the fact that Kim Jong-un decided to include Kim Yo-jong in the delegation is "significant," according to CNN. South Korea's Unification Ministry said in a statement, per CNN,
We believe that the North's announcement of the delegation shows its willingness to ease tensions on the Korean peninsula along with a message of celebration for the PyeongChang Olympic Winter Games. It is significant that the delegation also includes Kim Yo Jong, who is Chairman Kim Jong Un's sister and holds an important position in the Workers' Party of Korea.
Though South Korea sees Kim Yo-jong's attendance as a positive sign, it's likely that the United States won't feel the same way. As the vice director of the Workers' Party Propaganda and Agitation Department, Kim Yo-jong was included on the Treasury Department's blacklist of North Korean officials, and has been the target of U.S. sanctions, according to CNN.
Vice President Mike Pence will also be in South Korea for the opening ceremony and hopes that Kim Jong-un's position on using the Olympics to ease tensions between the North and South are genuine. Pence said on Wednesday, Feb. 7, according to CNN, that he is "traveling to the Olympics to make sure that North Korea doesn't use the powerful symbolism and the backdrop of the Winter Olympics to paper over the truth about their regime."
Pence might have a point. Though Kim Jong-un sent his sister and competitors and seems to want to ease tension, it might not be as "genuine" as it appears. On the eve of the opening ceremony, Thursday Feb. 8, North Korea staged a massive military parade to mark the 70th anniversary of the founding of its army, according to CBS. Along with tens of thousands of soldiers marching through Kim Il Sung square in Pyongyang, Kim Jong-un also took the opportunity to show off his weapons of war, which included two different intercontinental ballistic missiles believed to have the capacity to reach the U.S.
Shea Cotton, an expert on North Korea's weapon program, told CBS that he believes, "If North Korea wanted to be reasonable with something like thus, they wouldn't be holding a parade the day before the Olympics."
There seems to be some mixed messages coming from Kim Jong-un, which is not all that surprising. Yes, he sent his sister Kim Yo-jong, and yes, he said he wants to show more of a united front at the Olympics, but it seems that he might be sending a different message by, first, sending Kim Yo-jong but probably not showing up himself, and, second, with staging his massive military parade on the same day as the Olympic Games get underway. Did he send his sister as a proxy and a stunt or was it really in good faith?