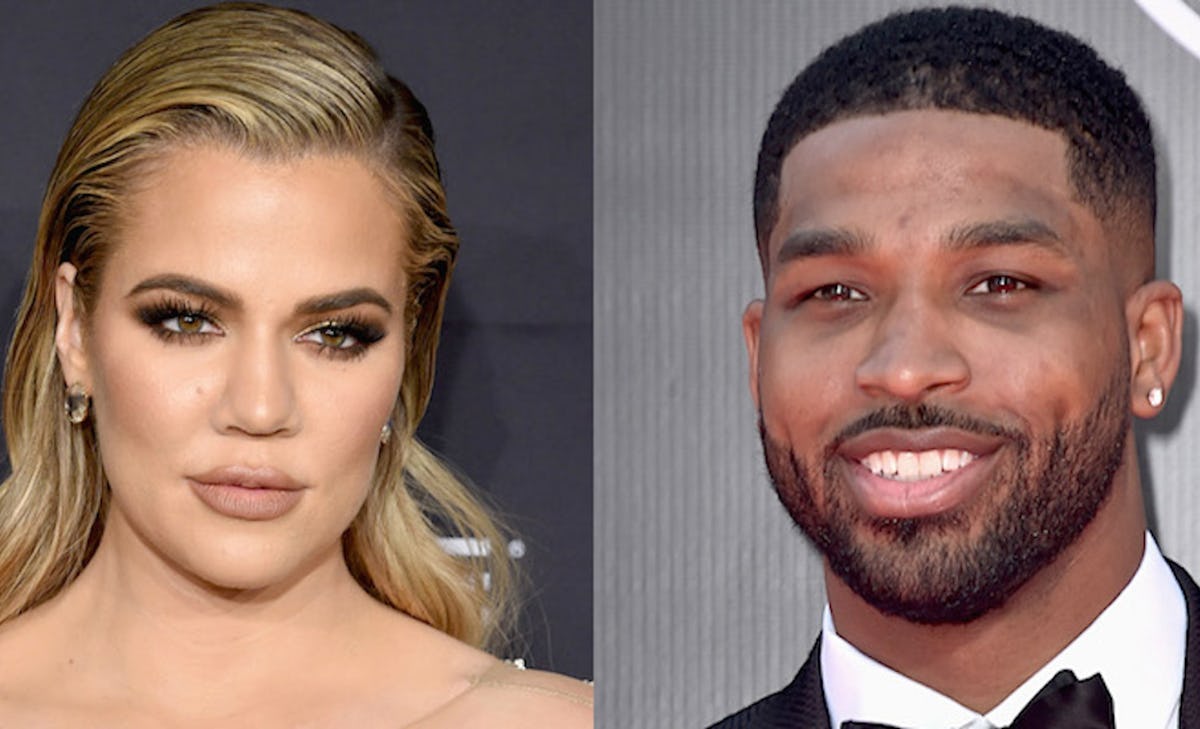 Khloé Kardashian's Reported Reason For Not Moving To Cleveland Yet Is So Heartbreaking
JAMIE MCCARTHY/ALBERTO E. RODRIGUEZ/GETTY IMAGES
Judging from Khloé Kardashian's cryptic social media posts the week of Oct. 1, it's safe to say that she's been in a pretty conflicted headspace. After all, the Keeping Up with the Kardashians star has had a hectic past six months juggling a new baby, the aftermath of boyfriend Tristan Thompson's alleged infidelity, and plans to move to Cleveland, Ohio for the start of the NBA star's season. However, in light of Kardashian's recent social media flurry, fans are now wondering: is Khloé Kardashian moving to Cleveland after all? According to a new report, a source says that Khloé Kardashian is facing lingering doubts about her relationship with Thompson, and her move is currently up in the air. Elite Daily reached out to Khloé Kardashian for comment about the reports, but didn't hear back by the time of publication.
According to People, an insider source claims that Kardashian — who gave birth to baby True on April 12, 2018 — is still struggling to work through trust issues, almost six months after Thompson's alleged cheating scandal broke earlier this spring. Elite Daily reached out to Kardashian and Thompson's teams for comment at the time of the reports, but did not hear back by the time of publication.
"Khloé has seemed emotional," the source told People in an exclusive interview shared on Friday, Oct. 5. "Her feelings about Tristan cheating is something that she is still dealing with. She has good weeks when she is fine about it and weeks when she is upset about it."
From the look of her Instagram story the last few days, the 34-year-old is currently experiencing the latter, which might be a bump in her plans to move to Cleveland.
The source continued, "It's of course difficult to trust someone 100 percent who cheated days before he was about to become a dad. Khloé still struggles with this sometimes. She wants to move back to Cleveland, but she isn't sure what date she is [going]. The move is postponed for now."
This is, of course, a totally understandable reaction and something that I think that almost any person would relate with given her situation. In addition to qualms about her relationship, the insider says that Kardashian is also battling the thought of leaving her sisters.
"She seems very upset about leaving her family," the source explained. "She had the best summer in L.A."
While I'd still take this report with a grain of salt, I wouldn't be surprised if there was something going on. Over the past few days, Koko has been on a puzzling Instagram spree, first posting to her Instagram Story about "being brutally broken" then revealing she'd lost countless nights of sleep to "overthinking." She later applauded herself for her strength over the past couple months, writing "All of that, and you're still standing. I am proud of you! You're doing a great job! Keep going."
On Saturday, Oct. 6, Kardashian had a slightly more uplifting message on her mind as she wrote on her Instagram Story, "We don't always choose what happens to us, but we can choose to see it as a positive, to believe it is for the best, and to use it to grow."
Despite People's report that she's on the fence, it's important to note that Kardashian hasn't completely ruled out a move to Cleveland just yet, and I have a feeling that she'll be in no rush to make a final decision anytime soon. In the meantime, I'll be keeping up with her cryptic Instagram posts and trying to make sense of it all.