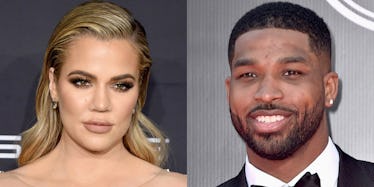 Khloé K Seemingly Just Confirmed Tristan Thompson Cheated On Her While Calling Out Trolls
Jamie McCarthy/Alberto E. Rodriguez/Getty Images
Khloé Kardashian has been through hell and back. The new mom seems like she's happy and in love with her life with True and Tristan Thompson, which seems to be a stark contrast from the last month of her pregnancy and the weeks following the birth of True. Ever since reports of Thompson's infidelity came to light in April, we haven't been given any confirmation from Kardashian herself about what exactly went down. Kim Kardashian and Kris Jenner kind of confirmed the drama, but did Tristan Thompson cheat on Khloe Kardashian or not? According to a comment she left on a popular Instagram account, it seems like we might have finally gotten the answer from Kardashian herself. Elite Daily reached out to Kardashian and Thompson's teams for comment, but did not hear back by the time of publication.
It all went down on Perez Hilton's Instagram account and it was all captured by the popular Instagram account, @CommentsByCelebs. The account, which posts screenshots of comments celebrities make on Instagram posts, posted a screenshot of a Perez Hilton post that was all about Kardashian and Thompson. The caption read, "Khloe Kardashian and Tristan Thompson are reportedly talking MARRIAGE." Pretty harmless rumor to throw out there, but it's apparently false. This sent Kardashian on a bit of a commenting spree.
Her comments read, "Who makes up this crap you guys post?? This is how slow the news is? You need this ridiculous story? What a waste." Awkward. She continued in a new comment, "If you must write such crap please stop tagging me at least!"
An Instagram user commented on the post and said, "This is so sad like who would want a love story like this, it's pathetic to see a strong women [SIC] become weak over a man."
They didn't tag Kardashian in their comment, but she responded, saying, "It's truly sad that you believe blogs and then actually take the time to comment on someone else's life."
And she didn't stop there. When another Instagram user commented, "So she's acting like Tristan didn't cheat? Like it was made up by blogs? Lol," Kardashian defended herself and seemingly confirmed the rumors that Thompson was cheating on her the weekend before she gave birth to their daughter (the news dropped just two days before Kardashian went into labor).
"I'm not acting as if Tristan didn't cheat," Khloé commented. "I'm saying the story about marriage and anyone insinuating they know what we speak about privately is 'crap.' Not upset by commenters. Not upset by anything." If she's not acting like Thompson didn't cheat... does that mean she's acknowledging that he did? That's probably as close as we're going to get to a confirmation, ever.
A video The Daily Mail released on April 10 and a subsequent video released by TMZ seemingly showed 1) Thompson reportedly kissing another woman in New York City the previous weekend, and 2) Thompson seemingly being flirty and intimate with three women at a hookah bar in D.C. in November. Elite Daily reached out to Kardashian and Thompson's teams for comment on the video at the time, but did not hear back by the time of publication.
Kardashian never addressed the reports of Thompson's reported infidelity herself, but Kim Kardashian seemingly confirmed the rumors to be true in an interview with Ellen DeGeneres not long after Kardashian gave birth to True on April 12. "Poor Khloé," Kardashian said when asked to comment on the cheating rumors. "Like, I don't even know how to describe it besides it's so f*cked up. We really were rooting for Khloé and we still are. You know she's so strong and she's doing the best she can. It's a really sad situation all over."
The sadness of the whole situation does seem to be over and Kardashian clearly seems at least almost ready to talk about the whole ordeal, which is good, seeing as it's reportedly going to be a big plot point on the current season of Keeping Up With The Kardashians. Khloé and Tristan might be on the other side of this drama, but it's about to be blown open again once fans see what all went down behind the scenes.