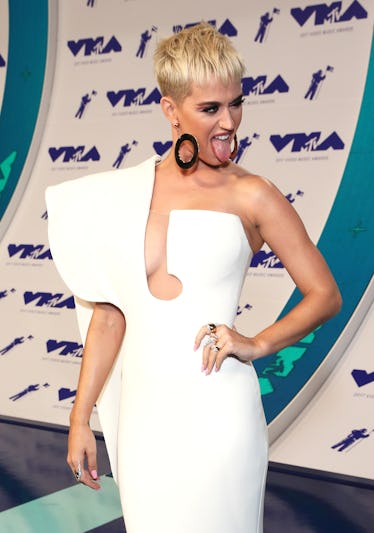 Katy Perry Might Not Be Performing At The 2017 VS Fashion Show For An Insane Reason
Phillip Faraone/Getty Images Entertainment/Getty Images
The 2017 Victoria's Secret Fashion Show is almost here, and you know what that means: beautiful models traipsing down a runway and world-class performers taking the stage to sing their hearts out. This year, the show takes place in Shanghai, China, and will undoubtedly be fierce. But recently, some controversy indicates that Katy Perry, who is scheduled to perform at the show, has reportedly been banned from the country. If she isn't allowed entry to Shanghai, that leads all of us to wonder: Is Katy Perry performing at the 2017 Victoria's Secret Fashion Show?
Before we can figure that out, the first thing that needs to be discussed is why she was reportedly banned from China to begin with. According to Page Six, Perry stirred up trouble back in 2015, when she wore a sunflower dress to her show in Taipei. The sunflower has been adopted as a symbol to anti-China protestors, so her wardrobe was reportedly considered offensive to the country of China. According to reports, she then caused further outrage by waving a Taiwanese flag around during her show, indicating the singer's support for a place that has long been seeking their independence from China. Elite Daily reached out to Perry's team for confirmation of this report, but did not hear back in time of publication.
Clearly, China is still holding their grudge against Perry, because she was reportedly denied her request for a Chinese visa and has reportedly been banned from entering the country. A source spoke out to Page Six regarding the rumored ban:
She was initially granted a visa to perform at the VS show in Shanghai, then Chinese officials changed their minds and yanked her visa ... For every artist who wants to perform in China, officials comb through their social-media and press reports to see if they have done anything deemed to be offensive to the country.
Yup, it seems that Katy Perry will not be performing at this year's Victoria's Secret Fashion Show because of her sunflower dress, which was essentially viewed as a political statement to the Chinese government.
Though Perry herself hasn't taken to social media to comment, fans of the pop singer are definitely heated regarding the matter, calling out the harsh consequence of Perry's actions:
Perry isn't the only one who has reportedly been denied entry, either.
On Thursday, model Gigi Hadid announced on Twitter that she would not be attending the Victoria's Secret Fashion Show:
Fans found it strange, considering Hadid's Instagram in August confirmed that she would, in fact, be walking in the show, writing, "Forever and ever and ever a dream come true to be asked back to the VS Show!!!"
According to Page Six, Hadid was banned because of a video she posted on Instagram – mocking the religious figure Buddha – despite apologizing for her actions. Elite Daily reached out to Hadid's team to confirm this report, but did not hear back by time of publication.
And just when you thought there couldn't possibly be any more drama, Fashionista reported that four other Victoria's Secret models – Julia Belyakova, Kate Grigorieva, Irina Sharipova, and Dasha Khlystun – are reportedly being denied entry into China as well. A screenshot from a Victoria's Secret Spanish fan Instagram account that was posted to their Stories showed a conversation with model Dasha Khlystun that seemingly confirmed that she wouldn't be walking in Shanghai, further verifying the tally of people not attending.
At this point, will there be enough models to even have the VS Fashion Show?!
Of course, I'm being overdramatic, but it is pretty insane that so many people set to walk the runway have reportedly been denied entry into the country.
It looks like the show must go on, and it will still have a pop star to replace Perry with. According to Page Six, Harry Styles will be taking Perry's spot at the VS Fashion Show – let's just hope he gets the 'no sunflower' memo.