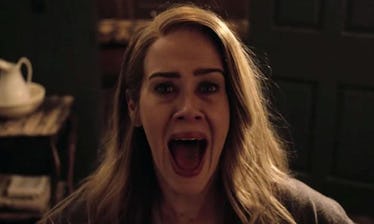 'AHS' Fans Will Be Thrilled To Know This Favorite Will Return For 'Apocalypse'
FX
Kathy Bates was surely missed when she didn't show up to lend her acting skills to American Horror Story: Cult last year. The Oscar winner has become a regular FX's horror anthology program, appearing in four installments prior to its upcoming eighth season. She's brought unforgettable characters to life like Madame Delphine LaLaurie and Ethel Darling, but is Kathy Bates in AHS: Apolalypse? The versatile performer is indeed returning for the Coven and Murder House crossover, so get ready to see her back in all her (probably terrifying) glory.
Many Apocalypse details are being kept under wraps leading up to the September premiere, although there are a few nuggets of intel that lead us to believe the ambitious reprisal/melding of two former seasons is going to be a weekly must-watch event. The season takes place in a not-so-distant future and creator Ryan Murphy has teased the theme is "very high concept."
"I'm just going to say one thing: The story begins with the end of the world, and then our world begins," executive producer Alexis Martin Woodall revealed at this week's Television Critics Association summer press tour, as reported by IndieWire. "It starts in the real world. It's very tangible, and it's a familiar hammock."
She also added that "there's a mystery to the show that's better unfolded."
Kathy Bates has channeled four separate compelling, yet contrasting identities for AHS in the past — Coven's Delphine LaLaurie, Freak Show's Ethel Darling, Hotel's Iris, and Roanoke's Agnes Mary Wintead. She'll reportedly be taking on a new persona for Apocalypse who goes by the mysterious name of Miss Mead. Mead's character details and connection to the earlier seasons are unknown, although her hair and costumes are apparently noteworthy elements.
"Because of Ryan, my career opened," Kathy Bates told Vanity Fair in 2016 when discussing her how her career changed thanks to AHS. "He really did it all. He brought me back to life during a difficult period in my life."
Bates has received three Emmy nominations for her work on the franchise and picked up a win for her Coven performance back in 2014. She did not appear on last year's Cult due to her comittment to filming the now-canceled Netflix comedy Disjointed.
Kathy Bates returns alongside other familiar AHS faces. Adina Porter, Billie Lourd, and Leslie Grossman are all coming back as new characters. Franchise vet Sarah Paulson is reportedly reprising two former roles and introducing a third. It's also about time for a proper Coven reunion. Gabourey Sidibe, Taissa Farmiga, Frances Conroy, Lily Rabe, and the iconic Stevie Nicks are all set to make AHS appearances. Jessica Lange is bringing back Constance Langdonand Emma Roberts will resurrect Madison Montgomery.
"I really can't say it often enough: Ryan Murphy changed my life. I'm forever indebted to him. He's given me a ­panoply of amazing ­characters to play with," Bates told Entertainment Weekly last year, while looking back at the roles that defined her professional life.
American Horror Story: Apocalypse premieres Wednesday, Sept. 12 on FX.