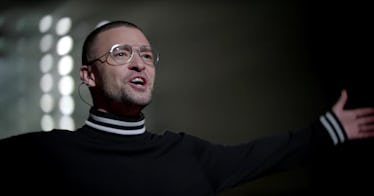 Fans Are Pissed Over Justin Timberlake's New Single For This One Reason
YouTube
In case you missed it, Justin Timberlake has finally released a new song, the first off his album Man of the Woods. The song, entitled "Filthy," is a futuristic, upbeat pop song, which is something we see time and time again from Timberlake (because he's damn good at it). But Timberlake took to social media with a video that showed a more folksy side – we're talking Timberlake bathing in the river, picking wildflowers in meadows, FULL ON folk. And people were like, "Let's get ready for some indie folk Justin Timberlake, y'all." But when "Filthy" was released, we saw zero of what we were teased with. Where are the trees and meadows? Where's the rivers? Why are there robots? So, is Justin Timberlake's new album country?
From the looks of what we've been given so far, it's clearly not. Or, at the very least, not fully a country album. And fans are less than pleased.
The "Filthy" video shows Timberlake as a brilliant inventor circa year 2028 at a Pan-Asian Deep Learning Conference in Kuala Lumpur, Malaysia. He introduces his latest creation, a robot that follows his every move, and by the video's end, his "creation" is basically getting down with his bad self alongside some pretty female dancers.
So, yeah, not exactly what we'd call country music.
But that's not to say that the other songs on the album won't be a country-esque sound. We have zero idea what else Timberlake has up his sleeve. BUT. The first song he decides to drop off his album literally could not be any further than what could be dubbed a country song.
If you look at Justin Timberlake's Twitter, you'll see that he shared a video about the anticipation of his newest album. In the video, Timberlake looks deeply moved by nature, and is heard in a voiceover saying, "This album is really inspired by my son, my wife, my family, but more so than any album I've ever written, where I'm from. And it's personal."
People thought that this was a beautiful way of announcing how his newest album would be much less dance party and much more sentimental and sweet.
So when "Filthy" debuted, and we were given a futuristic, pop-heavy, overtly sexual video, people had questions. And it wasn't just the video that was hot n' heavy – the lyrics absolutely go hand-in-hand.
The "Filthy" lyrics go:
I guess I got my swagger back
I said, put your filthy hands all over me
And no, this ain't the clean version
And what you gonna do with all that meat?
Cookin' up a mean servin'
No question, I want it
Fire up, everybody smokin'
Your friends, my friends
And they ain't leavin' till six in the morning (six in the morning)
Are those lyrics even LEGAL? I think I need a fan, TBH. And maybe a Bible.
Look: Is the song catchy and fun and maybe something you can listen to when you feel like making out with your boyfriend? Yes.
Is it one single iota of country music? HELL to the no.
And bad news: when you tell Twitter to prepare for a new, country sound and you give them pop music, they WILL revolt:
Although, to be fair, Timberlake never SAID that his new album would be country. It was simply implied based off his teaser video he shared on Twitter. Some people took note of that little bit of info:
I mean, they're not wrong.
I can see why fans are less than pleased to hear "Filthy" and immediately understand that it's not a country song. But let's all give Timberlake a minute, because we still have his entire album to listen to and who knows? Maybe we'll get that folksy side of Timberlake we were all hoping for.