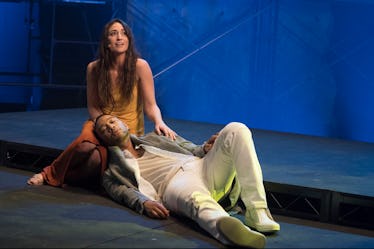 Here Are All The Ways You Can Watch 'Jesus Christ Superstar Live' This Easter
Virginia Sherwood/NBC
We have less than a week to go until the next live musical extravaganza, and Jesus Christ Superstar Live is boldly going where no TV musical has gone before: producing a show that is totally fitting for its Easter airdate. The live concert premieres on NBC at 8 p.m. ET on April 1, but some viewers may be away from home or without a TV on the holiday, so you'll have to resort to alternative ways to view Jesus Christ Superstar. So, is Jesus Christ Superstar Live on Hulu or any other streaming platforms? There are plenty of ways to catch the Andrew Lloyd Webber and Tim Rice rock opera if you can't be planted on your couch for the one-night event.
Anyone with a Hulu With Live TV subscription (which is separate from a regular Hulu account) can access the real-time programming of more than 50 channels, including NBC. Just as you would with an ordinary livestream, you can log onto your Hulu With Live TV portal at 8 p.m. to access Jesus Christ Superstar. While the special service starts at $39.99 a month after your free trial, it seems that you can get away with signing up for free just to watch the concert and then cancel your subscription afterwards. It's 2018 – TV hacks are a must, right?
It's likely that the entire concert will also be available on Hulu after Sunday night, so if your family's Easter egg hunt is running a little overtime, you don't have to freak about completely missing the show.
Those with a cable subscription can also turn to the ever-faithful NBC livestream to catch Jesus Christ Superstar.
Whether you manage to watch the concert live or later that week, this will definitely be a unique spectacle to watch. Airing live from Brooklyn's Marcy Armory, Jesus Christ Superstar Live marks NBC's fifth live musical event, but it has already been set aside from its predecessors. Normally, the productions air in early December and are billed as "holiday specials," with casts even performing in the Macy's Thanksgiving Day Parade. Such was the case with NBC's previous shows The Sound of Music Live!, Peter Pan Live!, The Wiz Live!, and Hairspray Live!.
This past December was supposed to usher in the Jennifer Lopez-helmed Bye Bye Birdie Live!, but the event has already been bumped back twice due to J. Lo's schedule. With Bye Bye Birdie now scheduled to air in 2019, NBC did not announce a replacement production for December 2017, and it's unclear if a new show will occur this December. Thank goodness we have Jesus Christ Superstar to hold us over in what may become an extremely long gap between NBC live musicals.
While NBC's previous picks of musicals were a mix of classic and little-known shows, Jesus Christ Superstar is its first attempt at a production perfectly catered for its airdate. FOX produced A Christmas Story Live! last December but, likely because many people didn't realize the production was also based on a Broadway musical and not just the original movie, it didn't receive the best response. By picking Jesus Christ Superstar for an Easter launch, NBC has definitely made a bold and unique move for this kind of live content.
Telling the story of the last seven days of Jesus Christ's life entirely in song, Jesus Christ Superstar Live stars John Legend as Jesus and Sara Bareilles as Mary Magdalene. Rock legend Alice Cooper also appears as King Herod. Although the musical initially debuted on Broadway in 1971, the songs were first introduced on a rock opera concept album in 1970. Since its original Broadway production, actors have performed several international versions of Jesus Christ Superstar and Broadway revivals in 1977, 2000, and 2012. That being said, I feel that Jesus Christ Superstar is an obscure enough musical that plenty of people will be introduced to it for the first time this Easter.
Jesus Christ Superstar Live airs on Sunday, April 1, at 8 p.m. ET on NBC.