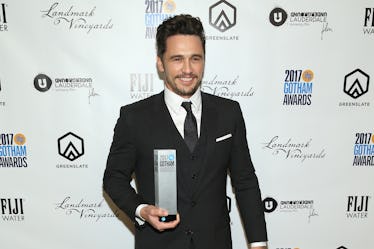 James Franco Has A New Rumored GF & She's Absolutely Gorgeous
Bennett Raglin/Getty Images Entertainment/Getty Images
After a slide for a couple of years in the Q ratings, James Franco is back on top of the celebrity mountain in 2017 with his Oscar contender of a movie, The Disaster Artist. The oddly meta film about the making of one of the worst movies in history, The Room, is a critical darling, and could make a huge splash at the Golden Globes next month. Franco says he might bring Tommy Wiseau, the man behind The Room, as his plus-one to the event, leaving fans wondering: Is James Franco single? Or does he have a main squeeze he'd be leaving home in order to bring Wiseau to his first legit awards show?
James Franco has been pretty tight-lipped about his love life ever since hitting the big time in 2002 in the Sam Raimi Spider-Man films. Prior to making it in Hollywood, he had dated actress Marla Sokoloff, but afterwards, most of his relationships have been rumors at best. He's been linked to co-stars like Sienna Miller and Emilia Clarke, and seen out with models like Agyness Deyn and Ahna O'Reilly. (The latter he actually did bring to a few red carpet events, but they never spoke about their relationship to the press.)
With a track record like that, it's not surprising to learn that his current situation is not one that's been "confirmed" by "sources" to People magazine, which is famous for being the route that most celebrities take to unofficially announce their relationships ahead of making it official. Instead, our source comes from The Daily Mail, who claim Franco confirmed it in an interview... but that it was not published on the internet.
According to their sources, James Franco was asked during the interview (which is a short piece discussing hitting 40 and midlife crises) if he was seeing anyone.
He said: '[Is Franco dating?] 'Yeah.' [How long?] 'Four months.'
But the actor did not confirm who he was seeing, and this portion did not make it into the online version of the article.
The Daily Mail goes on to insist that Franco's newest flame is Isabel Pakzad, who they believe he's been seeing since June of this year or so. Who is she? She's an LA-based TV publicist, who was once spotted getting coffee with Franco back in July. Kind of a slim reed to hang one's hopes on. But if Franco confirmed that he was seeing someone for the last four months in October, it does fall within the proper timeline.
To be fair, some of the quotes from the interview sound like a man who is ready to settle down.
I guess it's called a midlife crisis. I've certainly hit a wall this past year. It's not like I went out and had to buy a Ferrari or anything like that. It was more about re-prioritising and figuring out what was meaningful. I've been known as a guy that just did a lot of things.
But if this is his date, there's zero hint on her Instagram of that being the case, or even of her seeing anyone at all. All of her pictures are either selfies, or holiday trips, or her having a good time with girlfriends.
So even if it is true that Franco and Pakzad are an item, it looks like they will not be confirming it to anyone anytime soon, not on social media, and not likely on the red carpet either.
That leaves Franco free to bring whoever he wants to the Golden Globes next month. Knowing his penchant for humor, it would only make sense that he would bring along someone like Tommy Wiseau as his date, both for the unexpected aspect of what the man might say on the red carpet, and as a thank you for inspiring such a great film.