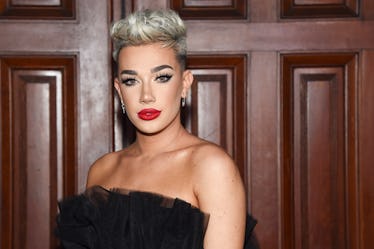 Here's What To Know About The Allegations Against James Charles
Jamie McCarthy/Getty Images Entertainment/Getty Images
There's been speculation about the beauty guru's personal life. In addition to confusion over whether James Charles is single, he has been accused of sexual misconduct by multiple boys and men. In February 2021, allegations that Charles, 21, had groomed a 16-year-old boy circulated on TikTok and Twitter, along with a video in which the minor described Charles sending him explicit photos and videos, requesting explicit photos in return, and asking to FaceTime. The boy described feeling "really uncomfortable" and claimed he told Charles his age. The makeup artist denied the allegations in a Feb. 26 statement on Twitter. "The accusation that I have groomed this person is completely false," he wrote, adding, "I will now ask to see the ID or passport of every guy I have a conversation with."
Over the next few days and weeks, multiple other minors alleged similar experiences. One 17-year-old boy alleged Charles continued to flirt with him even after learning his age. A 15-year-old boy shared screenshots that appeared to show Charles accusing him of lying about his age after they exchanged Snapchats. Another 16-year-old alleged Charles sent him sexually explicit messages.
Charles addressed two of the alleged incidents in an April 1 video titled "holding myself accountable," though he did not specify which ones he was responding to. He claimed that in both incidents, he added the person on Snapchat, immediately asked how old they were, and only upon hearing they were over 18 years old, "engaged in flirty conversation." He claimed he later discovered both boys were 16 and promptly blocked them. "I owe a massive apology to anyone that I've hurt or anyone that I've made feel uncomfortable with my actions," he said in the video.
When additional allegations of misconduct surfaced after his April 1 video, Charles posted a follow-up statement on Twitter. "Since posting that video, many other people have come forward with a series of misleading stories and false allegations which have been reported on by many people, creators, and news outlets," he wrote on April 16. "My legal team has begun taking action against those that have spread misinformation and/or created completely fake stories, as this has gone too far."
This isn't the first time Charles publicly addressed his sexually explicit or suggestive behavior. In 2018, Shawn Mendes posted an Instagram Live video of himself juggling, to which Charles replied, "Can you juggle me like that?" Around the same time, Mendes reportedly expressed some discomfort with Charles' comments at one of his album secret sessions.
Not long after, Charles tweeted an apology for his comments. "My comments on friend's & boy's content have always been light hearted & in a joking manner. I've been supporting @shawnmendes since vine & am a fan like anyone else, & would never want to make anyone uncomfortable. Im upset, embarrassed, and sorry if he felt sexually harassed," he wrote.
But Mendes quickly reached out to Charles, denying he was ever bothered. "I've never said I don't like you or that you make me uncomfortable," Mendes said in a DM to Charles. "Your comments actually make me laugh and I love them!"
Although the beauty YouTuber has never publicly confirmed any relationships, in February 2021, fans wondered if Charles was dating singer Larray. The pair filmed a "couples only" challenge for Larray's TikTok, answering questions about their "relationship." They implied Larray was the first one to make a move, while Charles is the more romantic one, and that they first said "I love you" at the same time. But given that Larray ultimately deleted the video, and that he appeared to be in a relationship with influencer Brady Potter just two months prior, and because Charles never posted about Larray on his own TikTok, it's unclear if the two are actually an item.
In January 2020, Charles announced he would run a Bachelor-style dating game on TikTok, asking interested people to comment on his video or duet it. While he didn't get a boyfriend out of it, he did gain followers as a result.
He may have turned to TikTok for romance because, as he revealed in a November 2018 interview with Entertainment Tonight, he's not fond of dating apps. "My [dating app] accounts always get deleted because they think I'm cat-fishing. So rude!" he said. He explained he found them too inefficient. "I don't have time ... I just need a boyfriend like, right now. I don't want to sit here and scroll through people and message back and forth. Like, hello, no!"
Hopefully, Charles has learned important lessons about how to date appropriately and will use those going forward.
Editor's Note: This story has been updated by Elite Daily's staff to reflect new information about Charles.
This article was originally published on