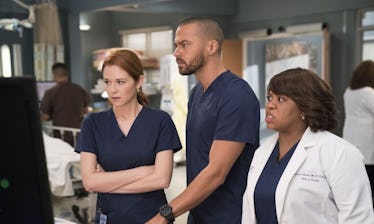 'Grey's Anatomy' Fans Are Worried This Character Won't Make It To Season 15
ABC
Grey's Anatomy is getting on in years, starting it's 15th season this coming fall. Perhaps that's why it's happy to mosey on in towards the end of September while younger, sprightlier shows rush in earlier in the month. But as the saying goes, good things come to those who wait, and with Grey's Anatomy, they'll come in abundance with a two-hour premiere on Thursday, Sept. 27 from 8 p.m. to 10 p.m. ET. But some fans are concerned about returning characters. Is Jackson in Grey's Anatomy Season 15? With April Kemper's exit, fans are concerned.
It's not just April's exit that has fans worried about Jackson's status, though. (Heck, some are relieved the on-again-off-again relationship between her and Jackson is finally, officially over.) It's actor Jesse Williams' schedule as well. The actor has played Jackson Avery since Season 6 when he first showed up as a recurring cast member, and then was promoted to full-time series regular in Season 7.
But Williams' career has slowly been taking off in the last year, and he'll be working around filming two films back to back over the course of the 2018-2019 TV season. How will the show compensate for his absence from the set?
Williams has no less than four films currently in various stages of production for 2019 and 2020. There's the remake of the 1990 film Jacob's Ladder, coming out in February of 2019, followed by the horror movie Random Acts of Violence, which is currently filming now. Then there's Selah and the Spades, which is probably destined for the film festival circuit, requiring Williams to do a spate of overseas red carpet appearances, and finally, Team Joy, which is in pre-production and starts filming after Random Acts is finished,.
That's a full slate for any actor, but an even fuller one for someone who is also committed to a 24-episode TV drama. This has lead Redditors to worry how Grey's Anatomy plans to explain the character's absence.
The fact is, Grey's Anatomy has plenty of stuff for everyone. With new interns, new characters, and a very pregnant Teddy all coming back to fill the void left by Jessica Capshaw's Arizona and Sarah Drew's April, the show could easily put Williams' character on the backburner. While Teddy is announcing she's carrying Owen's baby and causing a love triangle, Meredith is finding love again with new cast member Chris Carmack as Seattle's newest orthopedic surgeon hotshot. Frankly, Jackson could be off being happy with Maggie Pierce (Kelly McCreary), and no one would really notice.
The Grey's Anatomy two-hour Season 15 premiere will arrive on Sept. 27, covering both the usual 8 p.m. ET Grey's slot along with the 9 p.m. empty slot left when Scandal ended, followed by the premiere of How To Get Away With Murder Season 5. The full Thursday night lineup will kick in the week after. Thursday, Oct. 4 will see Grey's Anatomy return to the regular hour-long format, followed by the premiere of spinoff series Station 19 Season 2, and How To Get Away With Murder to follow.