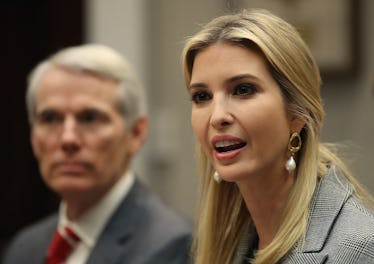 Ivanka Trump's Decision On Whether Or Not To Attend WHCD Was No Surprise
Mark Wilson/Getty Images News/Getty Images
In the days ahead of the 2018 White House Correspondents' Dinner, it wasn't exactly clear who would and would not show up to the event, which celebrates political journalism yearly. Last year for instance, Ivanka Trump did not attend the dinner, a follow-up of her father's decision to not attend. This year, however, her decision seemed much more uncertain, which made the question worth asking on Saturday night: Is Ivanka Trump at the 2018 White House Correspondents' Dinner?
To be clear, there was reason to believe she would attend.
Earlier in April, when White House Correspondents' Association president Margaret Talev announced that President Donald Trump would be skipping the event for the second year in a row, she hinted that other members of his staff could be in attendance.
"The White House has informed us that the president does not plan to participate in this year's dinner but that he will actively encourage members of the executive branch to attend and join us as we celebrate the First Amendment," Talev said in a statement.
Later in the statement, Talev announced that White House Press Secretary Sarah Huckabee Sanders would attend the event, while expressing optimism about the attitude the Trump administration has shown towards this year's dinner, as opposed to the 2017 edition.
"There is something a little bit different about their posture, the administration's posture this year — the White House telling us that while the president himself doesn't feel comfortable attending this year, he is going to actively encourage his Cabinet, his advisers, the executive branch who have received invitations to attend that dinner," Talev's statement read.
It's clear what Talev was alluding to. In 2017, Ivanka Trump was far from the only member of the Trump administration who didn't attend the event. In fact, the whole White House staff avoided attending the 2017 dinner in "solidarity" with President Trump, who of course is no great fan of news media.
The different "posture" that Talev mentioned in her statement did not translate into an appearance from the first daughter, as Ivanka Trump skipped out on Saturday night's festivities. Trump did, however, have a presence at events related to the dinner. Both Ivanka and husband Jared Kushner were at a Friday night party hosted by Atlantic Media, according to CNN.
Saturday would not have been Ivanka's first time at the White House Correspondents' Dinner, as she attended the event in 2015 with husband Jared Kushner.
Back then, however, her world was different. Trump's father had not yet officially declared his candidacy for the Republican presidential nomination and she was not a White House staff member. All of that, of course, changed in 2017, after President Trump was inaugurated and brought on his daughter has part of his staff.
So when the 2017 White House Correspondents' Dinner came around, Ivanka Trump became fair game for jokes, as would any administration and its members during a "WHCD." At the 2017 dinner, Hasan Minhaj — who was yet another Comedy Central vet to have hosted the event — straight up joked about why Ivanka would endorse her father.
During and after the dinner, Ivanka Trump seemingly bit her tongue and did not respond to the monologue.
The 2018 dinner posed the same danger of Ivanka being the subject of another joke. The host for the 2018 dinner is former Daily Show correspondent Michelle Wolf, who reportedly once tweeted that "Ivanka Trump helps women about as much as an empty box of tampons."
Wolf has also tweeted on another occasion, "I think [President] Trump might be our dumbest president ever. And thats including all the ones that thought leeches were medicine."
So, yeah, maybe it is a good thing that Ivanka Trump didn't show up.