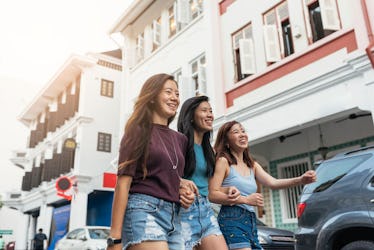 I Only Have A Handful Of Close Friends In My 20s & Here's Why I'm OK With It
Growing up, I believed that having a giant posse that would be my ride-or-die crew forever was so important. I've recently realized that I only have a handful of really close friends who I genuinely trust. I've often wondered, "Is it OK to have a few close friends in your 20s?" The answer, for me at least, is definitely yes — and I'm going to tell you why, based on my personal experience.
I love having a few close friends who I know I can always count on, no matter the distance or time of day. That's not to say that I don't enjoy hanging out in large groups of friends. (My social life in college revolved around huge friend groups.) But now, I enjoy having just a handful of good friends a lot more. I love the individualized quality time that I get when I hang out with my couple of close friends, and I feel like I've been given the opportunity to build really strong relationships.
Though there are both pros and cons to only having a few close friends in your 20s, I honestly wouldn't have it any other way. The friendships I have now are the best ones I've ever had in my life.