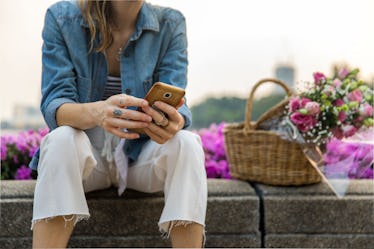 9 Situations In Which It's Totally OK To Cancel On Your Date, Guilt-Free
Ah, the sweet, sweet high of cancelling plans. While I love being busy and doing things with my friends, I also love to occasionally bow out of plans to bond with my couch and my dear pal, Hulu. I know I'm not alone in this, but if you're single and lookin' to mingle, staying home all the time isn't going to do you any favors. But even if you're motivated to put yourself out there and go on dates, there are certain times when it's OK to cancel a date. Of course, cancel your date if you find out your date already has a girlfriend/boyfriend, or you bump into your dream partner en route to your date, or a natural disaster strikes. Duh.
Sometimes, more subtle situations pop up and make you think about cancelling and that's totally fine because life happens! Whether it's a first date or you're a few dates in, chances are the person on the other end of your plans will be understanding of your situation. (But try not to get too cancel-happy, because it's pretty unlikely your Mr./Ms. Right will break into your apartment.) So, don't worry if you have to send that, "I'm sorry to do this but..." text because it's absolutely OK to cancel a date, especially under the following circumstances.