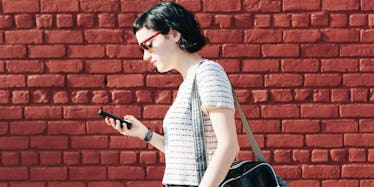 This Is The Best Text To Send If You Need To Cancel Another Date At The Last Minute
You have a date planned — either with a partner or someone you're just beginning to see — and for some reason, you can't make it. You have to figure out what to say to cancel a date over text because tonight's just not going to work out for you. And it's not the first time. I've been there before, either from something for work that popped up last-minute, a test I just needed to study more for, and that dating app date I just wasn't in the mood to put up with that night.
It can be rough to come up with something that alleviates guilt from you for not being able to go on the date. Or you may have a legitimate reason to not go, of course. And although you don't owe anyone your time per se, it still is thoughtful to try and come up with a solid text to them to explain why you can no longer come to that date.
To figure out the best way to handle this, I consulted with intuitive dating coach Diana Dorell for what to text that person or your partner. If you're unsure of what to say, read on for the best text to send to cancel a date.