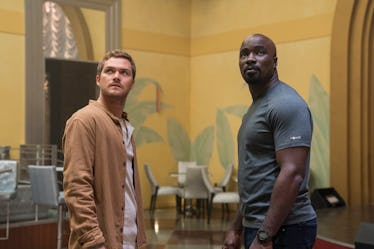 'Luke Cage' Season 2 Shows Fan An Iconic Marvel Team-Up & Worlds Are Colliding
Netflix
Luke Cage is no stranger to crossovers in the Netflix Marvel universe. He started out spending time on Jessica Jones Season 1 before moving to Harlem and his own spinoff. Then, he met Danny Rand and Matt Murdock during The Defenders. Heck, his girlfriend Claire Temple practically show-hopped until she settled down with Luke. (The only show she's not been on is the Daredevil spinoff, The Punisher.) So, it's not a surprise Iron Fist came to visit Luke Cage Season 2. Is Iron Fist in the Luke Cage Marvel comics? Warning: Spoilers for Luke Cage Season 2 follow.
Luke Cage first appeared in the 1972 comic Luke Cage: Hero for Hire. The character was created by Roy Thomas during the height of what was known as the "blaxploitation" genre, and though the television version has made a lot of updates to modernize the character, that was the vein in which he was originally imagined. Thomas also created Iron Fist two years later in response to the martial arts craze that took off in the mid-1970s.
But Iron Fist didn't appear in his own comic at first. He was introduced in Marvel Premiere #15 and then went on to join up with Luke Cage, who by then was being published under the title Luke Cage: Power Man since Issue #17. The comic was renamed Power Man & Iron Fist starting with Issue #50, and ran under that name all the way until 1986.
To say these two have a long history together is an understatement. Both are what one might call "problematic characters" who would have had short shelf lives as standalone comics, since they were based on short-term fads. But together, they became a pretty good duo and lasted longer as a team than anyone would have thought possible.
That's one of the reasons the show paired Danny Rand up with Luke Cage this season, allowing the series to riff on the original duo. It's also why in an earlier episode, they crossed over Danny's girlfriend, Colleen Wing, to hang out with Misty Knight.
But that's not the only reason. It's not a fact Marvel would like to admit to, but while they updated Luke Cage for the modern world very well, the updates for Iron Fist fell flat. There were a lot of critics who hated the first Iron Fist series, and it has the second-lowest Rotten Tomato score of any Disney Marvel creation, behind Marvel's Inhumans.
One of the biggest problems in Iron Fist was Danny Rand. Rather than perhaps casting an Asian actor in the role and completely reinventing the story, the show stuck faithfully to the 1970s whitewashing of the martial arts genre, with a "white savior" figure played by Finn Jones, who many complained was not up to the martial art stunts being asked of him.
Iron Fist was released before Netflix rescinded their policy of auto-renewing shows no matter what the ratings, so Iron Fist 2 is coming out sometime in the next year. That means Netflix needs to both rehabilitate the character and create a backup plan if that fails.
Putting Finn Jones and Mike Colter together is a step in the right direction. Their episode together might not really have a lot going on, but it doesn't need to. The two of them hanging out, eating Chinese, and dropping in on Mariah in Harlem's Paradise was entertaining as hell. But one episode out of 13 is probably not enough. But by pairing the two up and seeding Colleen in, Netflix now has the making of a merger should the Iron Fist standalone series be canceled.
Think about it: Power Man & Iron Fist: Heroes For Hire. With no second season of The Defenders in the works, that would be a great new crossover excuse. It's a show I'd watch, anyway.