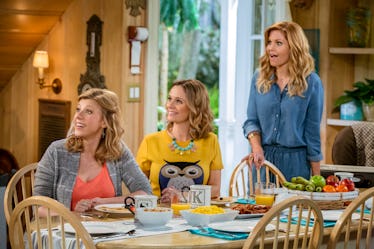 Fans Think 'Fuller House' Is Ending, But Candace Cameron Bure Set Things Straight
Mike Yarish / Netflix
When it premiered in 2016, Fuller House kicked off the trend of reviving old TV shows that tossed in veteran characters, new babies, pets, and the kitchen sink. With Danny, Uncle Jesse, and Joey moving back to San Francisco for the show's upcoming fourth season, Fuller House's antics are due to become as heightened as ever, but fans might only have a limited time to enjoy more of the Tanner family. Is Fuller House ending after Season 4? Despite recent rumors saying otherwise, Candace Cameron Bure has a reassuring message for Netflix viewers.
Earlier this week, TVLine reported that Netflix was considering ending the popular revival series after airing its fourth season of sisters DJ and Stephanie and longtime neighbor Kimmy Gibbler raising DJ's three sons in the classic Tanner family home. The new season completed filming in September, but the streaming service has yet to announce a premiere date for the episodes. A Netflix spokesperson then told TVLine, "No decision has been made about the future of Fuller House; we're looking forward to the premiere of Season 4 later this year."
Having reached a point in its run that few other TV revivals have already reached, Fuller House has fared well for what it is. The show received its first Emmy nomination in the Outstanding Children's Programming category, and adding to Netflix's ever-growing recognition is never a bad thing. Fuller House receiving an Emmy nod is why star Candace Cameron Bure isn't worried about the future, telling E! News:
I don't know why or how that rumor got started. I think it was a slow news day and someone wanted to make more of it than it is. I have no doubt that we're going to be back for season five.
In the past, Bure has shared hopes of the revival series having as many seasons as the original Full House. It's not exactly breaking the internet like new seasons of The Crown or Queer Eye do, but can you really complain about Fuller House's kid-friendly doses of nostalgia? If you're one of those people who does...
The second half of the show's third season launched in December 2017. In the finale, Danny reunited with his former fiancée Vicky, while surrogate Kimmy successfully became pregnant with Stephanie's baby. Now that the family's older generation is headed back to San Francisco for Season 4, the show's title has never felt more appropriate. After Season 3's subtle throwback to the Full House cameo of '90s mainstay Steve Urkel, we could even see Jaleel White reprise his Family Matters character in the future. Well, why not?
As for when cast members see the show actually ending, Bure has a particularly long run in mind, telling E!:
My goal, honestly, is that we're going to be the next Golden Girls. That's what we want. The three of us, add Lori Loughlin in a bunch, it'll be four of us in the house—the next generation of The Golden Girls.
Season 4 of Fuller House premieres on Netflix later this year.