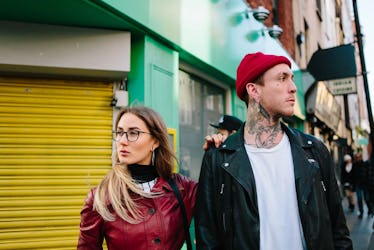 Here's Why Fighting In Public Isn't A Black & White Issue, According To Therapists
Bangs can be a bad idea, getting back together with your ex can be even worse, and mixing hard alcohol with wine is possibly the worst of all — these are all lessons I've had to learn the hard way. Without a doubt, one of the tougher questions that arose while dating in my 20s was, is fighting in public bad for your relationship? Deep down I may have known the answer, but again, this wasn't an inquiry that could be satisfied with a simple yes or no response from someone else. It didn't matter if my mom or my best friend in the world tried to warn me against such behavior — I wouldn't have listened. Some things we just have to figure out by doing them and witnessing their disastrous consequences.
There are lessons that all of us must learn the hard way — particularly in regards to love. It may feel awkward, uncomfortable, and even frustrating. But fret not — those are just growing pains. They mean you're maturing. You're evolving. You're making a mistake, brushing yourself off, and bouncing back a better person. Sure, learning through trial-and-error means you'll likely have some regrets down the road. As my great-grandmother Eloise once told me in her Louisiana drawl, "If you don't have regrets, you haven't truly lived." There are certain common missteps that we seem to need to make in our relationships before learning our lessons. The good news? By making these mistakes you're putting yourself in a position to be a better partner going forward.