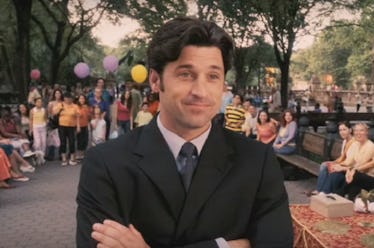 Patrick Dempsey Shared What He Thinks His 'Enchanted' Character Is Up To Now
Walt Disney Pictures
If you're a little too young to have watched Grey's Anatomy from its beginning, your first introduction to McDreamy, aka Patrick Dempsey, might have been through his equally dreamy role in Disney's 2007 musical Enchanted. In the film, Dempsey's jaded Manhattan divorce attorney Robert meets Amy Adams' whimsical almost-princess Giselle, who helps him rediscover the magic of love again. The movie is more than a decade old, but Disney fans are still hopeful for a sequel. Is Enchanted 2 happening? Dempsey shared what he knows about the possibility of another Disney-fied New York City adventure for Giselle and Robert.
From watching Giselle coax all of Central Park into a musical number to softly singing to her as they dance together at a ball, Robert's romantic side would definitely make Derek Shepherd proud. Dempsey hasn't appeared in many movies since leaving Grey's Anatomy in 2015, but his chance to return to the big screen might come soon. While Adams, who shot to widespread recognition after starring in Enchanted, hinted earlier this year that Disney was working on a sequel, Dempsey recently told Entertainment Tonight:
[A team is] in the process of working on the book, the lyrics and the musical aspects. We'll see what happens. I think it's such a beloved movie we need to make sure it's right before we move forward. And certainly, Amy was remarkable in that film and she's an incredible actress and James Marsden as well. We'll see, I hope it can live up to what we did originally, that's the important thing. If it happens, then we do it.
The cast of Enchanted also included James Marsden as Giselle's fiancé Prince Edward (who she eventually ditches, because when is Marsden not the forsaken boyfriend?) and future Disney queen Idina Menzel as Robert's girlfriend Nancy. Susan Sarandon also starred as Edward's evil stepmother Narissa, who tricked Giselle into taking a portal to New York right before her marriage to Edward. While Queen Narissa was vanquished by the end of the film and Edward and Nancy ran off to his animated kingdom Andalasia together, all an Enchanted sequel really needs for me to adore it is Adams and Dempsey together.
Listed on IMDb as Disenchanted, the Enchanted sequel is linked to director Adam Shankman, who also helmed The Wedding Planner, A Walk to Remember, and the upcoming What Men Want. Although he hasn't seen a script for another movie, Dempsey has a strong theory about where Robert may be in a new movie. He told ET:
He's probably 10 years older and [Giselle and Robert] are still together. They have a child together and I think they are battling what it means to be getting older and I think she wants to go back to Andalasia so she doesn't have to age.
If a script still happens to be in the malleable stage, those screenwriters should totally take Dempsey's thoughts into consideration. Seeing a Disney princess face the idea of mortality is definitely a different direction for the studio, but a sweet mix of realism and fantasy was what made Enchanted so beloved in the first place. Until clearer confirmation of a sequel comes along, I'll plow through my to-do list to the tune of "Happy Working Song."