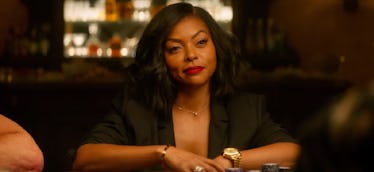 The 'What Men Want' Trailer Will Make You Laugh Out Loud At Your Desk
Paramount Pictures
Cracking the code behind men's thoughts is no easy feat, but Taraji P. Henson will soon show us how it's done. In her upcoming movie What Men Want, she'll star in a reimagining of Nancy Meyers' 2000 film What Women Want and magically wake up with the ability to hear men's internal thoughts. Without the slight cringiness of the fairly dated What Women Want, the What Men Want trailer will make you laugh out loud and start imagining your own life with this secret mind-reading power.
Re-envisioning Meyers' original concept of a man suddenly hearing the thoughts of women, What Men Want stars Henson as Ali, a fierce sports management professional who is frustrated with the sexism at her male-dominated job. When her dreams of snagging a coveted promotion are smashed, Ali and her friends find themselves visiting a spiritual guide who concocts a mysterious brew of tea for Ali to drink and subsequently help her connect better with men. When she wakes up after experiencing a head injury, Ali realizes she can hear the innermost thoughts of the men surrounding her, which she eventually sees as a gift meant to help her conquer everyday situations with men.
Also featuring Tracy Morgan, Shaquille O'Neal, Max Greenfield, and even Pete Davidson in a blink-and-you-missed-it moment, the What Men Want trailer doesn't tease an obvious romance, but if that isn't in the cards for Ali, then more power to her. This woman's clearly got places to be!
While the sneaky insight into men's thoughts ought to be the true funny entertainment in the movie, it looks like quick quips are also to be expected. When Ali describes the potent tea the psychic asked her to drink, her assistant claps back, "I thought black people stopped drinking tea after Get Out."
Produced by the same team who created Girls Trip and Ride Along, What Men Want welcomed Hairspray director Adam Shankman to helm the project. Seemingly creating a theme of working on familiar-sounding projects, Variety reported in early 2018 that Shankman would move on to working on an Enchanted sequel after finishing What Men Want. I know the age of reboots and sequels gets a little tired sometimes, but between this revamped story and Shankman's next possible project, I'm not complaining.
Henson also shared the trailer on her Instagram page, writing that she and her cast "had too much fun" working on it.
In an April 2018 interview, Henson spilled about what the role meant to her, telling Yahoo! Entertainment:
I'd been dying to do a comedy. What Women Want was one of my all-time favorite films, and they're flipping it on its head and putting a woman at the lead. I was like, 'And you want me?' I'm just honored and so excited, happy to finally laugh in a role...My character has issues with finding the softer side of her woman...all her life, she's been around men, and you would think that she would know how to operate with men and she would have a relationship, but she doesn't.
Henson also promsed that the two films are actually very different and that the lead characters' special gifts are the only similar factors. With her character's own unique take on utilizing this power, What Men Want sounds like that it can definitely stand on its own in this influx of remakes.
What Men Want is in theaters on Jan. 11, 2019.