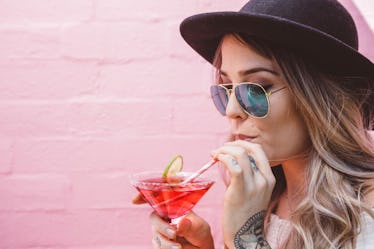 5 Signs That Partying Too Hard Is Taking A Serious Toll On Your Relationship
Choosing to party and drink isn't necessarily unhealthy or unsafe (as long as you're legally allowed to do so, of course). If you feel like you, your partner, or both of you are beginning to exhibit dangerous behavior in regards to partying, though, it might be time to look critically at your use of alcohol. In the event that excessive drinking is affecting your relationship, cutting down on habitual partying and alcohol consumption may be the solution.
It's important to recognize that there is not always a clear boundary between partying too much and struggling with addiction. Both are serious issues in their own right, but the line separating the two is easily blurred.
Whether you want to better understand the consequences of heavy drinking on your physical and mental health, or be able to identify the behaviors that accompany addiction, it's important to educate yourself. I spoke to Dr. Sal Raichbach, PsyD, LCSW, and expert in substance abuse and mental health issues at Ambrosia Treatment Center in an interview for Elite Daily for information on what to do if you think excessive partying is taking a toll on your relationship, as well as the red flags to look out for that may indicate a larger problem with alcohol.