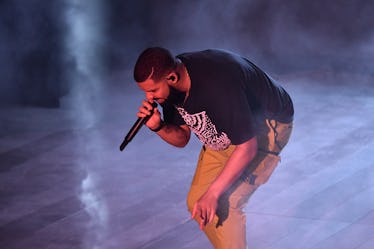 Drake Completely Skipped The VMAs, But It Was For A Really Great Reason
Frazer Harrison/Getty Images Entertainment/Getty Images
Drake has had an insanely good year. He started out on top, with his single "God's Plan" knocking Camila Cabello out of the Number One slot on Billboard Top 100 on Feb. 3, 2018. He stayed there for a full 11 weeks before he was displaced, by his own follow-up single, "Nice For What." That bounced in and out of the penthouse no less than three times, before finally being permanently displaced by, you guessed it, his own single again, "In My Feelings." With a run like that, of course, he's nominated tonight. But is Drake at the 2018 VMAs? Unfortunately, he's got a show tonight in Chicago, so he won't be in attendance.
But though he's not at the VMAs, on the charts Drake has had a run like no other. But on the internet, his world hasn't been all sunshine and roses. Drake made the mistake of letting himself get caught up in a rap beef with Pusha T, something that actually dated back all the way to the previous decade when they had a falling out over a Birdman song called "What Happened to That Boy." Their feud has popped up on and off since, with the latest round happening back in May, right around the time "Nice For What" got pushed off the number one slot the first time for Childish Gambino's "This Is America."
At the time, it looked like another draw, with Pusha T releasing "Infrared" and Drake responding with "Duppy Freestyle." But then Pusha clapped back with "The Story of Adidon," which outed that Drake had a child out of wedlock. Drake responded by not responding, at first, ignoring everything and dropping a throwback video to his Degrassi days instead, launching "Nice For What" back to number one.
But when his album Scorpion arrived, it admitted Pusha was right. "She's not my lover like Billie Jean, but the kid is mine," Drake sang. The album's singles may be burning up the charts, but the day it dropped was completely overshadowed by his confession.
It was an open question if Drake would walk the VMAs red carpet, or even turn up at all, with the possibility of having to face possible questions on this. With a concert to perform, he has a perfect built in excuse. Sorry, MTV, gotta work for the fans. Despite his no-show, he's still nominated for VMA's Artist of the Year. He's also nominated for "God's Plan" for Video of the Year, Song of the Year, Best Hip-Hop, Best Video with a Message, and Best Direction.
Still, not turning up tonight is a bit of a disappointment. While this has gone on, Drake is not only cumulatively at 24 weeks at Number One across three singles and counting, he's broken literally every streaming record in existence. "In My Feelings" was streamed by an inconceivable 116.2 million listeners the week it bounced "Nice For What" from the top spot for the last time.
It even spawned the #InMyFeelings challenge, making it not only the top song of the summer, but the top meme of the summer as well.
While reviews of the album are mixed, the sales and the spins are undeniable. It's too bad Drake isn't here tonight, but hopefully the VMAs will recognize him anyway.