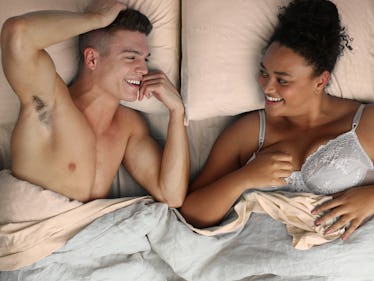 4 Reasons To Hook Up With The Cutie On Your Floor, Because Dormcest Is NBD
Bustle
One of the things that happens when you go to college away from home is that you can often bond with other people in your dorm. They're the ones you see everyday, sit with at floor meetings, and can easily hang out with from a simple knock on their door. Hooking up with the people who live in your dorm is nicknamed "dormcest" for its "incestous" relationship with family-like members in college. So, is dormcest a good idea?
"These are the people you've known since day one of college, when your parents dropped you off and likely introduced themselves to everyone on your floor," Dating coach and author of Breaking Up & Bouncing Back Samantha Burns tells Elite Daily. "They're the ones you walk by in the hall after you've just gone to the bathroom, there's a level of comfort and shared space that you don't have with the rest of your college cohort."
So it only seems fitting that when looking for a hookup, you may as well not look any further than your own hall. After a late night of studying and you want to let off some steam, or you're in the mood for a quick cuddle sesh, it's super easy to hit up one of your floor mates. Here's why it's actually kind of a genius idea.