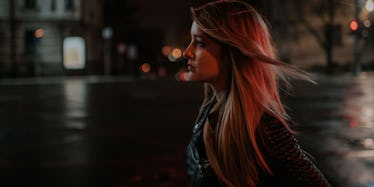 4 Must-Read Tips For Staying Safe When Walking Home Late At Night
You are on your way home late at night. You're leaving a mixer, or some late-night library studying, or a sports practice. Maybe you're alone, walking in a completely different direction than your friends; maybe you're slightly tipsy from the party; maybe your brain feels fried from hours of studying. It's late and dark. You need safety tips for walking home at night in college.
Luckily, many college campuses offer plenty of resources for students to remain safe on university premises, no matter the time of day. Resources like campus blue light emergency phones, safe rides, and special safety apps are offered at schools across the country, providing assistance to students who may be in danger. I spoke to Captain Leshuan Oliver, the Crime Prevention Community Officer for the Vanderbilt Campus Precinct in Nashville, Tennessee, to learn more about what's available to students across the country.
While it might feel like a drag to study up on safety tips, they're unfortunately important. Twenty-three percent of college women have experienced sexual assault or rape, according to the 2015 Association of American Universities' Climate Survey on Sexual Assault and Sexual Misconduct.
"It's important to remember that sexual assault is always the fault of the perpetrator, and never the victim, but there are some safety tips that you can keep in mind," Sara McGovern, RAINN Press Secretary, told Elite Daily.
Here are some tips that Captain Oliver had to offer to get home safely when walking home at night.