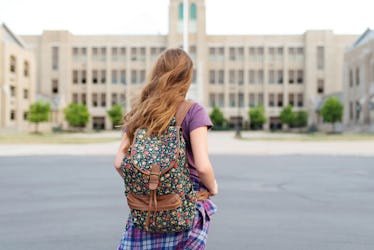 3 Ways To Stay Safe During Fall Semester, When Most Campus Sexual Assaults Occur
While sexual assault is in no way the fault of the victim ever, there are some safety tips for avoiding sexual assault on campus that you can arm yourself with. It's an unfortunate fact that you are most at risk for sexual assault during your first semester of college, according to a 2008 study published in the Journal of American College Health. Amid the excitement of college orientation events, getting to know your roommates, and starting your classes, the first six weeks of the semester are when more than half of campus sexual assaults occur, according to statistics from the Rape, Abuse & Incest National Network (RAINN).
It's important to note that sexual assault can happen at any time, anywhere, and not just on college campuses. However, more than 50 percent of college sexual assaults occur between August and November, according to RAINN. Additionally, students are at an increased risk during the first few months of their first and second semesters of college, also according to RAINN.
"While we don't know for sure why assaults occur more often early in the semester, as students acclimate to campus, they do tend to spend more time socializing," RAINN Press Secretary Sara McGovern tells Elite Daily.
In general, 21 percent of transgender, genderqueer, nonconforming (TGQN) college students have been sexually assaulted, compared to 18 percent of non-TGQN females and 4 percent of non-TGQN males, according a 2015 report by the Association of American Universities. And while 80 percent of rapes are reported by white women, women of color are more likely to be assaulted than white women, according to the 2010 National Intimate Partner and Sexual Violence Study.
There are a number of ways you can work to help cultivate a safe campus environment at your college. And if something happens and you or someone you know should ever need them, there are many resources available for survivors of sexual assault.